Pollen
Talk

1
13,972 pages on
this wiki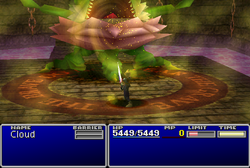 Pollen (花粉, Kafun?) is a recurring ability in the Final Fantasy series. It appears as an ability or spell, usually utilized by plant-type enemies. Pollen often inflicts status effects on its targets; however, some variants are restorative spells.
Variants include Deadly Pollen, Doom Pollen, Big Pollen, White Pollen, and Dream Pollen.
Appearances
Edit
Blood Flower and Mortblossom can use the Pollen ability in Final Fantasy IV. It inflicts non-elemental damage to the party in addition to the Sap status.
Blood Flower is the only monster that uses Pollen, and it functions the same way as in Final Fantasy IV.
Though an ability called Pollen is not present, Deadly Pollen, also known as Doom Pollen, is an enemy ability, which inflicts the Zombie status. Exoray is the only enemy that can use this.
Flower Prong's Pollen ability inflicts minor non-elemental damage to enemies and inflicts Sleep. Ho-chu's Big Pollen is very similar but it targets the entire party.
Pollen is an enemy ability which inflicts minor damage to the enemy party and inflicts Blind. The Dendrobium enemy and Plant Brain boss can both use it in the Evil Forest.
Pollen is an enemy ability from Final Fantasy X. There are three versions: Funguar's inflicts Sleep, Thorn's does the same and also inflicts Darkness, and Exoray's does the same and also inflicts Poison. Sleep Sprout's Goodnight attack is identical to Pollen, but inflicts magical damage, Berserk, Sleep, Poison, Power Break, and Armor Break.
Yuna's special Floral Fallal dressphere has two Pollen abilities. White Pollen heals the party while Dream Pollen inflicts non-elemental damage and the Sleep status on the enemy party.
Final Fantasy XI Spell
Pollen
MP:
8
Effect:
Restores caster's HP by a very small amount.
Duration:
Instant
Casting Time:
2 Seconds
Recast Time:
5 Seconds
Magic Type:
Blue Magic
Element:
Light
Jobs:
BLU 1
Pollen is Blue Magic spell learned from Bees. It restores HP to the caster. For bees, it can heal hundreds of HP, but for players, its default limit is 36 HP only. It grants HP+5 and CHR+1 when set, and costs 1 Blue Magic Point to set.
Roughly equivalent to the Healing Magic spell, Cure, but self-target only.
Modified by MND and VIT.
Enhanced by all "Cure Potency" enhancements, such as Light Staff/Apollo's Staff, Anwig Salade, and Desultor Tassets (with Cure Potency augments).
Not affected by weather/day effects or Korin Obi.
Enhanced by Divine Seal.
Soft cap is 36HP healed, but can exceed the cap with cure potency enhancements or Divine Seal.
Can be set alongside either Wild Carrot, Magic Fruit, Yawn, or Exuviation to create the Resist Sleep job trait.
The Pollen enemy ability inflicts Confuse, Poison, and Slow to its target.
Pollen is the Ochu and Neochu's main attack, which heals nearby Microchu and Picochu while inflicting debuffs and the Poison status to the player.
The Pollen ability is used by the Death Flower.