Poisonga
Talk

5
13,969 pages on
this wiki
Relm

: I couldn't miss the chance to practice my drawing!
This article is in need of a few pictures. Perhaps you can help by

uploading

and adding a picture or two.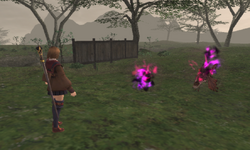 Poisonga, also known as Toxify (タクシク, Takushiku?), is a recurring ability in the series. It is an area-of-effect version of the spell Poison.
See also: Poison (Ability), Scourge, Bio (Ability), Biora, and Bioga.
Appearances
Edit

Poisonga is an enfeebling spell usable by Black Mages and Dark Knights that inflicts the Poison status on all targets within a large radius. Players rarely choose to cast Poisonga, however, because it prevents putting large groups of enemies to sleep, guaranteeing that all enemies will have to be dealt with at once (any form of damage, including poison, will wake sleeping targets in Final Fantasy XI).
It is for this very reason that sometimes, when an enemy wielding Black Magic casts Poisonga on a party or alliance, players will intentionally not cure the poison, so that the possible upcoming Sleepga spell will be quickly negated when the players are awakened by poison damage.

Toxify is a Green Magick spell and is a higher level form of the Green Magick spell Poison that inflicts the Poison status to multiple targets. Toxify is a Green Magick 4 License that costs 40 LP and consumes 26 MP. It can be bought Rabanastre, Nalbina, Eruyt Village, Mt. Bur-Omisace for 4100 gil.
In the International Zodiac Job version, Toxify has been listed as a Black Magick 11 License that costs 100 LP. Its MP and effects are retained, but it cannot be bought; Toxify is found in a a chest in Barheim Passage's East-West Bypass. This magick can only be used by the Black Mage job class.
Toxify has a base chance of 55% to inflict targets with Poison, but the chance is affected by the caster's magick power and the target's vitality.
Poisonga is a Saboteur skill and an area-of-effect version of Poison. It costs 3 ATB bars to cast and is learned by Hope on Stage 7, Vanille on Stage 8 and Lightning on Stage 10 of the Crystarium.
Poisonga attempts to inflict Poison on enemies within a wide radius and also inflicts Wound damage at the cost of three ATB bars. It can be learned by Serah, and it can be infused into other monsters.
Another ability, Heavy Poisonga, is a monster-exclusive ability which is a physical-based version of the Poisonga spell. This attack deals greater wound damage, but it does not drive up the targets' chain bonus as much as the conventional Poisonga spell. This attack costs 3 ATB bars and cannot be infused into other monsters.