Poisona
Talk

0
13,960 pages on
this wiki
Relm

: I couldn't miss the chance to practice my drawing!
This article is in need of a few pictures. Perhaps you can help by

uploading

and adding a picture or two.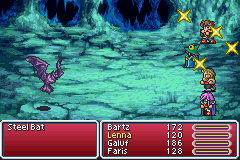 Poisona (ポイゾナ, Poizona?), also known as Antdot, Antidot, Pure, Esuna, or Panacea, is a White Magic spell that appears in various games in the series. It cures the Poison status.
Appearances
Edit

Poisona, also known as PURE in the NES release and Esuna in the Final Fantasy Origins release, is a level 4 White Magic spell which removes the Poison status effect from a single ally.
The spell can be bought at Elfheim and can be learned by the White Mage and Red Mage, and their upgrades. In the GBA/PSP/iOS releases it costs 3 MP to cast.
Poisona, or Pure, is a level 1 White Magic spell, and is the first purchasable spell in the game, bought in Ur for 100 gil. It is the spell behind the Antidote item, and has a 50% Accuracy.
Panacea, originally called Remedy, is not a player ability, but an ability used by enemies that restores the status of the party, oddly enough. It is used by Dr. Lugae. The spell Poisona is the spell used when a character uses a Staff as an item, which removes Poison from one target.
Poisona, also known as Antidot, is a level 1 White Magic spell and costs 2 MP to cast. It can be bought in Tule, Carwen, Karnak, and Jachol for 90 gil.
Poisona, also known as Antdot, can be learned naturally by both Terra and Celes (Terra at Level 6 and Celes at Level 8), and Kirin teaches the spell at a rate of x4. It costs 3 MP to cast and is vulnerable to Runic. In addition to curing Poison, the spell also cures the Sap status as well.
Poisona is obtained by equipping a Heal Materia. It costs 3 MP to cast. The enemies Toxic Frog and Jemnezmy have access to the spell, though Jemnezmy uses the spell as a counter on opponents that are under Poison, while Toxic Frog can only use the spell while under Manipulate.
Panacea can be learned by Dagger and Eiko through the Air Racket and Rod for 15 AP. Panacea also cures Venom, along with Poison. It costs 4 MP to cast. It can be reflected and works with Return Magic.
Panacea is an item Rikku can mix during her Overdrive. It has the same effect as Remedy, but over the entire party.
Panacea is a Mix ability that removes all negative status effects from all party members.
Poisona is a low-level WHM spell. Scholars can also cast it via Addendum: White.
Poisona is obtained from the White Magick 2 License, both in the original version and the International Zodiac Job System version - in which it can be learned by the Job classes White Mage and Red Mage, though a Red Mage must obtain the Quickening license first.