PlayStation Vita
17,607 pages on
this wiki
Talk

0
Cloud

:

I couldn't finish 'em. Looks like this's gonna get complicated.

The following tables are incomplete and require the release dates areas to be filled. If you wish, please examine the table and add anything missing. Remove this notice upon completion.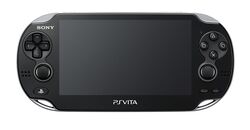 The PlayStation Vita is the most recent handheld console by Sony Computer Entertainment, and the successor to the PlayStation Portable, released in the end of 2011 and start of 2012. It's larger than a PlayStation Portable, with a wider screen to accompany the size increase. It offers 4-Core processing, an OLED touchscreen, Sixaxis motion sensing system, front and rear in-built cameras, and two analog sticks. There is also a PS Vita version supporting 3G connectivity and in-built GPS receiver.
The PS Vita is backwards compatible with all PlayStation Portable software, but like the PSP Go, it's not able to read UMD, relying on PlayStation Vita cards, a proprietary flash memory card. PlayStation Portable games and PlayStation Network and PlayStation Mobile software must be stored in PlayStation Vita memory cards.
On September 9th, 2013, Sony Computer Entertainment Japan announced the PlayStation Vita TV, a microconsole and a non-portable variant of the PlayStation Vita. At E3 2014, Sony Computer Entertainment America announced the localization of the Vita TV and it will be known in the western market as the PlayStation TV.
Compatible PSP Titles for PlayStation Vita
Edit
PSOne Classics
Edit
Game
Release Date
Metascore
Japan
North America
Europe
Final Fantasy Origins
?
January 10, 2011
N/A
79
Final Fantasy IV
?
N/A
N/A
N/A
Final Fantasy V
April 6, 2011
November 22, 2011
May 4, 2011
80
Final Fantasy VI
April 20, 2011
December 6, 2011
June 2, 2011
80
Final Fantasy VII
April 9, 2009
June 2, 2009
June 4, 2009
92
Final Fantasy VIII
September 24, 2009
December 17, 2009
February 4, 2010
90
Final Fantasy IX
May 20, 2010
June 15, 2010
February 26, 2010
94
Final Fantasy Tactics
?
?
N/A
83
Vagrant Story
August 12, 2009
March 1st, 2011
December 22, 2009
92
Chocobo no Fushigi na Dungeon
?
N/A
N/A
N/A
Chocobo Racing
?
N/A
N/A
N/A
Compatible PlayStation 4 Remote Play
Edit
PlayStation Now titles for PlayStation Vita
Edit
External Links
Edit