Piscodaemon
Talk

0
13,964 pages on
this wiki
Final Fantasy XII Mark
Piscodaemon
ピスコディーモン (Pisukodīmon)

Statistics
Level
46
HP
MP
49,660
999
Strength
Magic
33
27
Defense
Mag Def
21
33
Vitality
Speed
61
22
Attack
Evade%
64
5
EXP
LP
0
26
CP
Gil
4,730
0

Bestiary Location
Marks
Location
Giruvegan (Gate of Fire)
Common Steal
Potion
Uncommon Steal
Reflectga Mote
Rare Steal
White Robe
Common Drop
None
Uncommon Drop
None
Rare Drop
None
Very Rare Drop
None
Monograph Drop
None
Canopic Jar Drop
None
Common Poach
None
Rare Poach
None
Attacks
Regular Attack
Abilities
Bio, Darkra, Death, Fog, Invert, Pox, Breakart Pentagram, Pulsar Wave, Hero's March, Dark Shock, Soul Etude, Mystery Waltz
Innate abilities
Safety, Resist Guns and Measures, Null VIT, Piercing Magic, Spellbreaker, Half MP Cost, Magic CT = 0, Spellbound, Item Plus
If HP <20% - Spellspring, Damage Resist
Immune to
Death, Petrify, Stop, Doom, Confuse, Sleep, Disease, Reverse, Disable, Immobilize, Silence, Poison, Oil, Sap, Lure, Berserk, Warp, Poach, Fractional Damage, Sight Unseeing, Renew, Syphon, Numerology, Charm, Achilles, Wither, Addle
Other Information
Has Haste.
Has 50% Shell and Faith.
The Piscodaemon is a Rank V Mark from Final Fantasy XII found in the Gate of Fire area of Giruvegan. The hunt becomes available after the storyline events at Giruvegan. Originally Piscodaemon was a Nu Mou named Ashkroft who became a master of the dark arts and was sealed away by the Gran Kiltias Anastasis, but by the time of Anastasis's death, the seal fades and Ashkroft emerges a demon.
Clan Primer
Edit
Hunt 28: The Black Sorcerer
Edit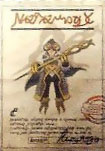 Petitioner: Ivaness
Petitioner's Location: Mt Bur-Omisace
Saw bill posted for the hunting of the Piscodaemon (Rank V). The petitioner is Ivaness on the Temple Grounds on Mt Bur-Omisace.
Hunt accepted. Ivaness explains that the Piscodaemon is in fact his twin brother, whose lust for power transformed him into a dark, terrible being. He wants you to destroy him before more damage can be done. The Piscodaemon can be found making for the Gate of Fire in Giruvegan.
Piscodaemon defeated! Report to Ivaness on the Temple Grounds on Mt Bur-Omisace.
Hunt reported. Ivaness thanks you for striking down his brother lost to darkness.
Bestiary Entry
Edit
Genus: Rank V Mark
Classification: ???
"Being a Nu Mou Male, fallen into dark, sorcerous Ways, and so banished by the Gran Kiltias Anastasis as Punishment for his (now its) Desire for Ultimate Power in Giruvegan. Yet the Strength of the Wards placed upon it failed with the passing of Anastasis, and its Power returned. The Mark's Twin, living on Mt Bur-Omisace, petitioned the hunt for this creature."
Before fighting Piscodaemon, the player should equip the party with armor that protects against Dark, and accessories that protect against Disable. Some other monsters such as Malboros will join the fight if Piscodaemon is near them. It's best to defeat the enemies around Piscodaemon before focusing on defeating him, since the Vivians' Putrid Breath can be a serious disadvantage.
Piscodaemon likes to cast high level magicks, mostly Darkra and Darkga. If the party doesn't have equipment to protect against Dark, they can simply cast Shell/Shellga. A good first move is to dispel the Piscodaemon. Some of his attacks inflict status ailments, most notably Disable. When his HP is left around 20%, Piscodaemon will begin a Physical Paling; at this point the party must blast him with high-level magicks.
If Reddas is in the party the player can cast Berserk on him along with Haste and Bravery, and he can take Piscodaemon out almost single-handedly.
Related Enemies
Edit