Pirates' Hideout
Talk

0
13,964 pages on
this wiki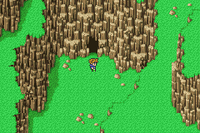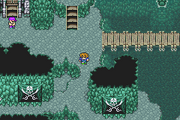 Pirates' Hideout (海賊のアジト, Kaizoku no Ajito?) is a location in Final Fantasy V. It is found in Bartz's World and in the headquarters of Faris and her gang of pirates. Bartz's chocobo, Boko, also spends most of the game here.
Bartz, alongside Lenna and Galuf, find a cove on their way to the Wind Shrine. Bartz leaves Boko at the entrance and the party explores the cave. At the time they reach a clearing, they find a boat approaching the cave. They wonder how it sails with no wind, and walk further inside the cave. Soon, they find it is actually an hideout for pirates.
At the hideout's dock, Lenna decides to "borrow" the ship. They go on board, and try to escape with it, but when trying to control the helm, Bartz finds that the ship will not move. Faris catches the thieves and locks them on the brig, not before Lenna begs for the pirates' help as the princess of Tycoon, which shocks everyone. During the night, Faris, who had noticed Lenna's pendant, decides to aid the party, and at dawn, Faris joins the party, who depart for the Wind Shrine.
The Pirates' Hideout is visited again in the Merged World. Bartz and Krile find Boko and his mate, Koko, who is pregnant. Bartz takes Boko with him so as to explore the new world. Later, after the party is reunited, Syldra's spirit can be found in the cave, and obtained as a summon.
| Name | Location |
| --- | --- |
| Leather Cap | Cave area |
| 300 gil | Pirates' Treasure Room |
| Tent | Pirates' Treasure Room |
| Ether | Pirates' Treasure Room |
| Potion x8 | Talk to Pirate after getting the key to Torna Canal |
This dungeon actually features two themes: "Dungeon" (ダンジョン, Danjon?) for the first part, and "Pirates Ahoy" (おれたちゃ海賊, Oretacha Kaizoku?) for the pirate base. The latter was reused in the Chocobo Racing Original Soundtrack as "Goblin's Theme".