Piano Collections Final Fantasy XI
Talk

8
13,964 pages on
this wiki
Piano Collections Final Fantasy XI
Catalog #
SQEX-10117
Composer(s)
Nobuo Uematsu, Naoshi Mizuta
Arranger(s)
Nobuo Uematsu, Naoshi Mizuta
Producer(s)
Naoshi Mizuta
Publisher
Square Enix
CD Info
1 CD - 11 Tracks
Length
41:30
Release date
June 25, 2008
Piano Collections Final Fantasy XI is a piano arranged album of tracks from Final Fantasy XI. It contains tracks composed by Nobuo Uematsu and Naoshi Mizuta, and arranged for the piano by Kaoru Ishikawa, and performed by Ayumi Iga and Kasumi Oga.
Piano Collections Final Fantasy XI may also refer to the album included in the Final Fantasy XI Original Soundtrack Premium Box, which is a different album entirely.
Track List
Edit
"A New Horizon - Tavnazian Archipelago" - 3:04
"Ronfaure" - 6:08
"The Grand Duchy of Jeuno" - 2:42
"Whispers of the Gods" - 3:29
"Stargazing" - 3:42
"Fated Strife -Besieged-" - 2:07
"Mercenaries' Delight" - 2:47
"The Sanctuary of Zi'Tah" - 4:50
"The Cosmic Wheel" - 4:29
"Griffons Never Die" - 5:06
"Wings of the Goddess" - 2:26
Sheet Music
Edit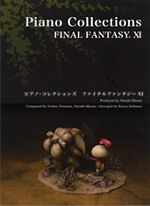 Published by Yamaha Music Media, the Final Fantasy XI Piano Collection Sheet Music book contains the sheet music for piano arrangements by Kaoru Ishikawa on the Piano Collections Final Fantasy XI album. The pieces are arranged for solo piano, and the difficulty level is from intermediary to advanced.