Phoenix (Final Fantasy XIII)
Talk

6
13,959 pages on
this wiki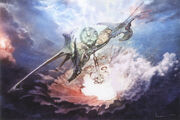 "I like this fal'Cie!"
—Sazh Katzroy
Phoenix is a fal'Cie of Cocoon in Final Fantasy XIII. It floats on the sky of Cocoon and maintains Cocoon's climate and weather, like a giant artificial sun.
See also: Datalog/The Fal'Cie.
Cocoon's own light in the sky, Phoenix is a Sanctum fal'Cie tasked with providing warmth and illumination. It floats at the center of Cocoon's inner atmosphere like a miniature sun, bathing the surrounding world in its radiant glow.
It is the fal'Cie who are responsible for Cocoon's climate, regularly adjusting weather as deemed necessary. Just as Phoenix regulates daylight, other subordinate fal'Cie maintain patterns of wind and precipitation.
While Lightning, Sazh, Vanille, and Hope are trying to escape from PSICOM in their airship, they encounter Phoenix. Lightning tells Sazh to fly into it in order to evade the enemy forces, but their ship gets damaged by its arcs of energy while weaving between them and they crash down towards the Vile Peaks.
At the end of the story, Phoenix's light dims following Orphan's death. Its light slowly fades away, setting Cocoon into darkness. Curiously, despite this, Phoenix still appears to be around in Final Fantasy XIII-2, although weakened. In the Brain Blast quiz in Academia 400 AF, it is revealed that every few centuries, the light emitted by the fal'Cie Phoenix will flicker, causing a moment of darkness. This phenomenon is called Flames of Rebirth, Phoenix's signature attack as a Summoned Monster.