Ad blocker interference detected!
Wikia is a free-to-use site that makes money from advertising. We have a modified experience for viewers using ad blockers

Wikia is not accessible if you've made further modifications. Remove the custom ad blocker rule(s) and the page will load as expected.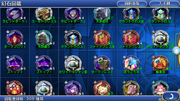 The Phantom Stone Library is a gallery in Final Fantasy Legends II. Players can receive rewards for owning a certain number of phantom stone in their library.
Fixed exchange items
Edit
| Total Owned | Reward | Total Owned | Reward | Total Owned | Reward | Total Owned | Reward |
| --- | --- | --- | --- | --- | --- | --- | --- |
| 5 | Pink Tail I | 10 | Pink Tail I | 15 | Rank Star I | 20 | Pink Tail II |
| 25 | Voucher | 30 | Rank Star II | 35 | Pink Tail II | 40 | Rank Star III |
| 45 | Pink Tail III | 50 | Voucher | 55 | Pink Tail III | 60 | Rank Star III |
| 65 | Radish ★★★ | 70 | Pink Tail IV | 75 | STS x100 | 80 | Rank Star IV |
| 85 | Pink Tail IV | 90 | Radish ★★★ | 95 | Pink Tail V | 100 | Voucher |
| 110 | Rank Star IV | 120 | Radish ★★★★ | 130 | Pink Tail V | 140 | Rank Star V |
| 150 | STS x200 | 160 | Pink Tail V | 170 | Rank Star V | 180 | Radish ★★★★★ |
| 190 | Pink Tail VI | 200 | Voucher | 210 | HP Boost I | 220 | MP Boost I |
| 230 | Attack Boost I | 240 | Magic Boost I | 250 | TOB Pts x10000 | 260 | Speed Boost I |
| 270 | HP Boost I | 280 | MP Boost I | 290 | Attack Boost I | 300 | STS x 300 |
| 310 | Magic Boost I | 320 | Speed Boost I | 330 | HP Boost I | 340 | MP Boost I |
| 350 | Rank Star VI | 360 | Attack Boost I | 370 | Magic Boost I | 380 | Speed Boost I |
| 390 | HP Boost I | 400 | Voucher | 410 | MP Boost I | 420 | Attack Boost I |
| 430 | Magic Boost I | 440 | Speed Boost I | 450 | TOB Pts x 10000 | 460 | HP Boost II |
| 470 | MP Boost II | 480 | Attack Boost II | 490 | Magic Boost II | 500 | STS x 400 |
| 510 | Speed Boost II | 520 | HP Boost II | 530 | MP Boost II | 540 | Attack Boost II |
| 550 | Rank Star VI | 560 | Magic Boost II | 570 | Speed Boost II | 580 | HP Boost II |
| 590 | MP Boost II | 600 | Voucher | 610 | Attack Boost II | 620 | Magic Boost II |
| 630 | Speed Boost II | 640 | HP Boost II | 650 | TOB Pts x 10000 | 660 | MP Boost II |
| 670 | Attack Boost II | 680 | Magic Boost II | 690 | Speed Boost II | 700 | STS x 500 |
| 710 | HP Boost II | 720 | MP Boost II | 730 | Attack Boost II | 740 | Magic Boost II |
| 750 | Rank Star VI | 760 | Speed Boost II | 770 | HP Boost II | 780 | MP Boost II |
| 790 | Power Boost II | 800 | Voucher | 810 | Magic Boost II | 820 | Speed Boost II |
| 830 | HP Boost II | 840 | MP Boost II | 850 | TOB Pts x15000 | 860 | Attack Boost II |
| 870 | Magic Boost II | 880 | Speed Boost II | 890 | HP Boost II | 900 | STS x600 |
| 910 | MP Boost II | 920 | Attack Boost II | 930 | Magic Boost II | 940 | Speed Boost II |