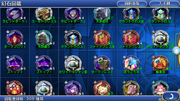 The Phantom Stone Library is a location in Final Fantasy Legends: Toki no Suishō. Players can get vouchers, Space time stones, tails, rank stars, stat boosts and many other stuff as rewards for achieving a certain number of phantom stone owned in their library.
List of Fixed Exchange Items
Edit
These exchange items are fixed and will not change.
STS = Space Time Stone
TOB Pts = Tower of Babil Points
| Total Owned | Reward | Total Owned | Reward | Total Owned | Reward | Total Owned | Reward |
| --- | --- | --- | --- | --- | --- | --- | --- |
| 5 | Pink Tail I | 10 | Pink Tail I | 15 | Rank Star I | 20 | Pink Tail II |
| 25 | Voucher | 30 | Rank Star II | 35 | Pink Tail II | 40 | Rank Star III |
| 45 | Pink Tail III | 50 | Voucher | 55 | Pink Tail III | 60 | Rank Star III |
| 65 | Radish ★★★ | 70 | Pink Tail IV | 75 | STS x 100 | 80 | Rank Star IV |
| 85 | Pink Tail IV | 90 | Radish ★★★ | 95 | Pink Tail V | 100 | Voucher |
| 110 | Rank Star IV | 120 | Radish ★★★★ | 130 | Pink Tail V | 140 | Rank Star V |
| 150 | STS x 200 | 160 | Pink Tail V | 170 | Rank Star V | 180 | Radish ★★★★★ |
| 190 | Pink Tail VI | 200 | Voucher | 210 | HP Boost I | 220 | MP Boost I |
| 230 | Attack Boost I | 240 | Magic Boost I | 250 | TOB Pts x10000 | 260 | Speed Boost I |
| 270 | HP Boost I | 280 | MP Boost I | 290 | Attack Boost I | 300 | STS x 300 |
| 310 | Magic Boost I | 320 | Speed Boost I | 330 | HP Boost I | 340 | MP Boost I |
| 350 | Rank Star VI | 360 | Attack Boost I | 370 | Magic Boost I | 380 | Speed Boost I |
| 390 | HP Boost I | 400 | Voucher | 410 | MP Boost I | 420 | Attack Boost I |
| 430 | Magic Boost I | 440 | Speed Boost I | 450 | TOB Pts x 10000 | 460 | HP Boost II |
| 470 | MP Boost II | 480 | Attack Boost II | 490 | Magic Boost II | 500 | STS x 400 |
| 510 | Speed Boost II | 520 | HP Boost II | 530 | MP Boost II | 540 | Attack Boost II |
| 550 | Rank Star VI | 560 | Magic Boost II | 570 | Speed Boost II | 580 | HP Boost II |
| 590 | MP Boost II | 600 | Voucher | 610 | Attack Boost II | 620 | Magic Boost II |
| 630 | Speed Boost II | 640 | HP Boost II | 650 | TOB Pts x 10000 | 660 | MP Boost II |
| 670 | Attack Boost II | 680 | Magic Boost II | 690 | Speed Boost II | 700 | STS x 500 |
| 710 | HP Boost II | 720 | MP Boost II | 730 | Attack Boost II | 740 | Magic Boost II |
| 750 | Rank Star VI | 760 | Speed Boost II | 770 | HP Boost II | 780 | MP Boost II |
| 790 | Power Boost II | 800 | Voucher | 810 | Magic Boost II | 820 | Speed Boost II |
| 830 | HP Boost II | 840 | MP Boost II | 850 | TOB Pts x 15000 | 860 | Attack Boost II |
| 870 | Magic Boost II | 880 | Speed Boost II | 890 | HP Boost II | 900 | STS x 600 |
| 910 | MP Boost II | 920 | Attack Boost II | 930 | Magic Boost II | 940 | Speed Boost II |