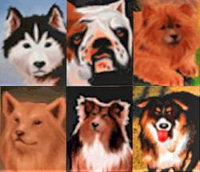 Pet Pals (ペット通信, Petto Tsūshin?) is a dog magazine sold in Timber Pet Shop and Esthar City book store (Karen's Store) in Final Fantasy VIII. Each volume costs 1,000 gil.
Mechanics
Edit
Reading an issue will inform Rinoa of one of six new tricks to teach her dog, Angelo, to use in battle. Once the magazine has been read from the Item inventory, the issue's trick will be listed in Rinoa's Status screen with an empty status bar.
The player may select from the list of tricks which Angelo will learn, being further prompted if they attempt to leave the screen without selecting a trick. A trick's status bar fills in correspondence to the number of steps taken with Rinoa in the active party. A distinct chime sounds when a trick's bar is filled, indicating its mastery. Angelo may perform mastered tricks in the Combine Limit Break, or automatically during battle after certain conditions have been met.
List of volumes
Edit
Other appearances
Edit

This article or section is a stub about an item in Final Fantasy Airborne Brigade. You can help the Final Fantasy Wiki by expanding it.