Final Fantasy X-2 Enemy
Peregrine
イーグル (Īguru)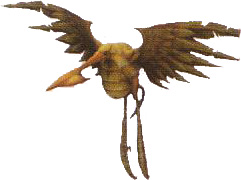 Bird
Statistics
Level
HP
MP
12
735
28
Strength
Magic
Defense
39
16
3
M. Defense
Agility
Accuracy
4
113
48
Evasion
Luck
48
0
EXP
AP
Gil
70
1
44
Peregrine
イーグル (Īguru)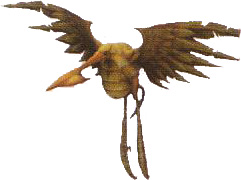 Bird
Statistics
Level
HP
MP
14
3,040
28
Strength
Magic
Defense
40
16
3
M. Defense
Agility
Accuracy
4
124
20
Evasion
Luck
63
0
EXP
AP
Gil
110
2
83
Normal: "A fiend whose incredible speed makes it an elusive and annoying foe. Beware its Mind Peck attack, which causes MP damage."
Oversoul: "Sometimes uses Poison and Silence attacks. Its speed makes it a terribly annoying opponent that can easily dodge attacks if your accuracy isn't high enough."
— Scan
The Peregrine is an enemy from Final Fantasy X-2. They are a minor nuisance as they can reduce MP with its Mind Pecker attack and inflicts statuses when in Oversoul. Like the rest of it's kind it is weak, and poses no threat.
Fiend Tale
Edit
In the Fiend Tale endings, one notable Peregrine was created from the spirit of an orphaned child in Kilika who left the temple at night out of a bet. Though the boy felt dead inside from losing his parents, he begged for his life at the last moment before being killed by fiends. Despite originally being upset over his sudden death, Peregrine accepted his new status as he felt more alive than he did as a human.
Other appearances
Edit


This article or section is a stub about an enemy in Final Fantasy Record Keeper. You can help the Final Fantasy Wiki by expanding it.
Etymology
Edit
[view · edit · purge]Peregrine falcon is a widespread bird of prey in the family Falconidae. The peregrine is renowned for its speed, reaching over 320 km/h (200 mph) during its characteristic hunting stoop making it the fastest member of the animal kingdom.
Related enemies
Edit