Ad blocker interference detected!
Wikia is a free-to-use site that makes money from advertising. We have a modified experience for viewers using ad blockers

Wikia is not accessible if you've made further modifications. Remove the custom ad blocker rule(s) and the page will load as expected.
In Dissidia Final Fantasy, special codes can be entered to unlock recipes to craft powerful equipment or Friend Cards which contain Ghost Battle opponents.
Note: In Russian version NA password for unlocking Fusoya is only applicable of the all password lists.
How to Enter Passwords
Edit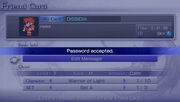 Start the game and choose "Communications Mode" from the Main Menu.
Within "Communications Mode", choose "Friend Card Settings" and then "Edit Message".
In the "Edit Message" screen, input the passwords displayed on this page. If properly entered, Friend Cards, Recipes and other such items will be unlocked.
Recipe Passwords
Edit
NB! Recipe passwords CAN be used more than once to obtain multiple accessories.
Accessory
Description/Effect
Acquired
Usage

Taurus Recipe

Looks like some kind of recipe. Better take it to a shop!
JP Password: KRCYGU7RJ8E3
NA Password: 897651643
EU Password: 4307934078
Ensanguined Shield

Gemini Recipe

Looks like some kind of recipe. Better take it to a shop!
JP Password: H3CSH3SDA3YUN
NA Password: 1137250106
EU Password: 433835656
Dangerously Lucky

Libra Recipe

Looks like some kind of recipe. Better take it to a shop!
JP Password: TGALKCAWTNA
NA Password: 901104871
EU Password: 378921967
Chicken Knife

Scorpio Recipe

Looks like some kind of recipe. Better take it to a shop!
JP Password: H336DETYA23X
NA Password: 6535897932
EU Password: 375925725
Bone Mail

Sagittarius Recipe

Looks like some kind of recipe. Better take it to a shop!
JP Password: UC6H3M3778CH3
NA Password: 884911049
EU Password: 916483658
Easy Come, Easy Go

Capricorn Recipe

Looks like some kind of recipe. Better take it to a shop!
JP Password: UC5H3J46F3MZA
NA Password: 870322642
EU Password: 619927495
Piggy's Stick

Aquarius Recipe

Looks like some kind of recipe. Better take it to a shop!
JP Password: MZCC3H38ZTUK
NA Password: 3927540667
EU Password: 389427509
Wyrmhero Blade

Aries Recipe

Looks like some kind of recipe. Better take it to a shop!
JP Password: 33MKERDTA2AK
NA Password: 6798067239
EU Password: 279568689
Miracle Shoes

Pisces Recipe

Looks like some kind of recipe. Better take it to a shop!
JP Password: QTAK5UWATGA
NA Password: 531062973
EU Password: 158122748
Ultima Weapon

Cancer Recipe

Looks like some kind of recipe. Better take it to a shop!
JP Password: SSAYECXK4CY6
NA Password: 1125877315
EU Password: 5723910337
Excalipoor

Leo Recipe

Looks like some kind of recipe. Better take it to a shop!
JP Password: HA3SESGAH3W3A
NA Password: 2367933714
EU Password: 275067928
Thornlet

Virgo Recipe

Looks like some kind of recipe. Better take it to a shop!
JP Password: ECTLMCCW3NMC
NA Password: 93702898
EU Password: 273617924
Strong Against Adversity
Friend Card Passwords
Edit
| Name | NA Password | JP Password | EU Password | Ghost Character | Rare Equipment/Accessory |
| --- | --- | --- | --- | --- | --- |
| Matoya | 3939258263 | M8ATK2TCPAYA | 184916360 | Warrior of Light | Purple Gem, Crystal Eye |
| Death Machine | 651738986 | CH4D9EN3A3TE3 | 947432766 | Garland | Cyan Gem, Warp Cube |
| Minwu | 2015944102 | MR3ZNNGXU72P | 3737946622 | Firion | Yellow Gem, Wild Rose, Fire Book |
| Behemoth | 827669534 | PASS3SU433KA | 951317857 | The Emperor | Cyan Gem, Wyvern Egg, Blade of the Damned |
| Ninja | 2748173856 | H4NA53NJRE9 | 4649011483 | Onion Knight | Green Gem, Noah's Lute |
| Ahriman | 1191170358 | MAPE5REPE4T5 | 265961476 | Cloud of Darkness | Purple Gem, Gnomish Bread |
| Red Wing Ace | 228451809 | 6A3K2A538TS | 402756270 | Cecil | Red Gem, Carnelian Signet |
| Fusoya | 29432971 | SF5AUS5WUJ39Y | 29712943 | Golbez | Yellow Gem, Whisperweed, Adamant Shield, Adamant Helm, Adamant Vest |
| Gilgamesh | 33906088 | GU3RK3UG4AMP | 2209321074 | Bartz | Yellow Gem, Dragon Seal, Genji Gear |
| Omega | 49326576 | 6C6M6E6G6A6 | 168219487 | Exdeath | Purple Gem, Omega Badge |
| Ultros | 2193355016 | 8TA9CQQTAC | 284892375 | Terra | Red Gem, Delicious Fish, Super Ribbon |
| Siegfried | 20151231 | FGR3ET5KKJC | 2549612772 | Kefka | Cyan Gem, Tintinabulum, Super Ribbon |
| Yuffie | 8672142937 | PASS3CH3GC45 | 480037742 | Cloud | White Gem, Snowboard |
| Cait Sith | 5237017057 | P2KET4DTCW6 | 6043817259 | Sephiroth | Orange Gem, Shinra Card Key |
| Laguna | 25315075 | RJAGH5UE6NA7 | 551219378 | Squall | White Gem, Occult Fan, Machine Gun |
| Seifer | 6764925796 | SME4SA39SFAH | 2647632918 | Ultimecia | Green Gem, GF Eden |
| Steiner | 473897101 | A3NASX6UXT7 | 956327204 | Zidane | Green Gem, Chocograph, Excalibur II |
| Vivi | 3784227940 | VTS3RAPLVKE3 | 702718560 | Kuja | White Gem, Strategy Guide |
| Wakka | 812417748 | WRKA3KUMKRA | 352988563 | Tidus | Blue Gem, Sphere |
| Auron | 1298228499 | AK6ATR7ECD8N | 3370559603 | Jecht | Blue Gem, Al Bhed Primer |
| Shantotto | 4797837576 | 469J3ELEVENWS | 449561760 | Shantotto | Blue Gem, Automaton Parts |
| Basch | 7140337848 | LAXBU6GRA4U | 895419387 | Gabranth | Orange Gem, Nethicite |
Player Icon Passwords
Edit
#
Icon
How to obtain
Image
N/A
FINAL FANTASY Agito XIII
JP Password: 7TY2AE6KLUL8
NA Password: 3881459361
EU Password: 932310371

N/A
FINAL FANTASY Agito XIII
JP Password: TCAMABR3ADTQ
NA Password: 4460725253
EU Password: 3141539392

N/A
FINAL FANTASY Versus XIII
JP Password: HEEBANRLTGS
NA Password: 4273120192
EU Password: 298185897

N/A
FINAL FANTASY Versus XIII
JP Password: NGAA3NMB3URGR
NA Password: 361855216
EU Password: 552041696

N/A
FINAL FANTASY XIII
JP Password: 28C7KMT23M48
NA Password: 5632121231
EU Password: 410592653

N/A
FINAL FANTASY XIII
JP Password: HK4A3ST6HA3S4
NA Password: 589786789
EU Password: 386177490

N/A
Chocobo (FINAL FANTASY V)
JP Password: SCHKJKDB3CH6C
NA Password: 582052436
EU Password: 6294236172

N/A
Moogle (FINAL FANTASY V)
JP Password: HMM48AC4JH3
NA Password: 134103103
EU Password: 8462693120