Pandemonium (Final Fantasy IX)
Talk

9
13,959 pages on
this wiki
Cid

: Oh, shut up and help me remodel the Pandemonium (Final Fantasy IX) page!
Please expand this article into a full one. This can be done by Adding a Locations section with images and brief descriptions of the areas within the whole location. This request can be discussed on the associated

discussion page

.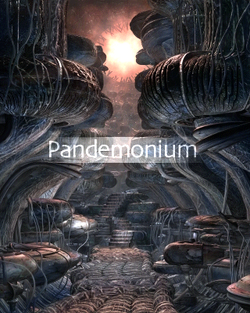 "So, this must be Garland's haunted mansion... Talk about bad taste in interior decorating."
—Zidane
Pandemonium (パンデモニウム, Pandemoniumu?) is Garland's castle in Final Fantasy IX and the place where he docks the Invincible and oversees the soulless Genomes. Referred to as a floating castle, Pandemonium is situated near Bran Bal on the planet of Terra.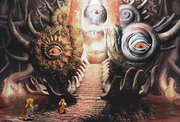 Pandemonium is where the souls of Terra, killed in years long past, lay in stasis, anticipating the absorption of Gaia. Pandemonium can only be accessed by a transport portal similar to those found within the castle proper.
Inside Pandemonium, Garland reveals to Zidane his true purpose as an Angel of Death. Zidane is distressed by the news and tries to attack Garland, but he apparently modifies Zidane, causing him to pass out and altering him to become an "empty vessel," just like the other Genomes. Zidane is left on a throne in a secluded room. His friends come to try to help shake him out of his reverie, but Zidane brushes off their attempts. After several battles where various party members help Zidane defeat various monsters of Pandemonium, he comes to grips with himself and rejects Garland's proposal.
The party battles a Silver Dragon and then Garland. Though Garland continues to predict Gaia's eventual decay, the party defeats him, and Garland crawls to the fortress's precipice. The party spares his life, but Kuja enters Pandemonium on the Invincible and kicks Garland off the ledge, sending him plummeting to his death. After Kuja enters Trance after being defeated in battle, Pandemonium is destroyed, along with the rest of Terra.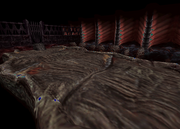 Treasures
Edit
Musical Themes
Edit
The theme that plays in Pandemonium is known as "Pandemonium" and is a remake of "Castle Pandaemonium" from Final Fantasy II with a distinctly slower tempo and gothic sound.
During the three battles after Zidane learns of his nature as a Genome, the music that plays is titled "You're Not Alone."

Etymology
Edit
Main article: Pandemonium#Etymology
Pandemonium is named after the castle of hell, Pandaemonium, from Final Fantasy II, which is, of course, named after the fortress that the fallen angel Lucifer builds in Hell in John Milton's Paradise Lost. The music that also plays in the location is a remix of the music played in Pandaemonium from Final Fantasy II, albeit at half the speed.