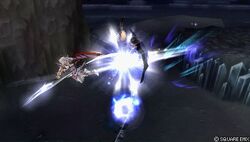 Paladin Force (パラディンフォース, Paradin Fōsu?) is a recurring ability in the series. It is an ability exclusively used by Cecil Harvey, and once copied by Bartz Klauser.
Appearances
Edit
Dissidia Paladin Force is an aerial physical HP attack for Cecil, learned at level 33. It requires 40 CP to equip (20 when mastered), 360 AP to master, has Melee High priority, and can induce Wall Rush. Cecil will shoot a bullet of light that will stun the opponent if it hits, and will allow Cecil to attack multiple times before slamming them down.
Paladin Force is also used as an aerial magical HP attack by Bartz, learned at level 38. It requires 45 CP to equip (25 when mastered), 180 AP to master, has Ranged High priority, and can induce Wall Rush. It functions identically to Cecil's version, but also grants minor midair Evasion boost.
Dissidia012 Paladin Force returns as an aerial physical and magical HP attack for Cecil, now learned at level 22. It now requires 30 CP to equip (15 when mastered) and 130 AP to master, but remains identical to its previous version. If the opponent is hit by Searchlight while using the attack, Cecil will zoom to the opponent's location.
Etymology
Edit
[view · edit · purge]The paladins, sometimes known as the Twelve Peers, were the foremost warriors of Charlemagne's court, according to the literary cycle known as the Matter of France.