Paine
19,159 pages on
this wiki
Talk

52
Paine is a playable character in Final Fantasy X-2, and the most reserved of the girls. Her past is a mystery and it is up to the player to discover what happened to her two years ago during the events of Final Fantasy X.
Appearance
Edit
Paine's manner of dress is different from that of other Spirans, and the cultural distinction implied by her clothing and appearance is never explained. The only known citizen of Spira who looks or dresses anything like her is Lulu, but no other relation is known between the two.
Paine has red eyes, making her resemble Lulu. She has short, silver hair, and most commonly wears a black leather ensemble complete with high-heeled boots, elbow-length gloves and a folded top. She wears a silver pendant threaded with a barbed wire chain. Paine's swords have a skull-motif at the base of the blade that also appears on the belt buckle of her Warrior ensemble, as well as the swords hovering over her head in her special dressphere, Full Throttle. In a bonus cutscene where the girls spend time in a hot spring in Mt. Gagazet, Paine wears a black and white bandeau bikini swimsuit with additional wrist, ankle and neck bands.
Paine's swords are unique in her Warrior, Dark Knight, and Samurai dresspheres, while in her White Mage and Black Mage dresspheres she wields the Malleable Staff and Enchanted Rod respectively. In the Gunner dressphere, she wields Yuna's Tiny Bee pistols and wields an indigo variant of Rikku's dagger blades while in the Thief dressphere. Her deck theme for the Lady Luck dressphere is diamonds and her Mascot dressphere is a Tonberry. Most of her footwear are high-heeled. When applicable, Paine's dressphere outfits incorporate boyish designs; e.g. her Psychic outfit is based on a typical Japanese schoolboy uniform.
Personality
Edit
Paine's personality resembles Auron's in the way how she is cynical and reveals information only when she needs to. Not much is known about Paine except that she is quiet and keeps to herself. Paine is tough and loves a good fight, but she is sensible enough to smell trouble a mile away. If she feels her fellow Gullwings are getting overenthusiastic, she uses sarcastic cracks to jolt them to their senses, and despite Rikku's constant prying, she refuses to divulge information about herself, except for always wanting to fly on an airship and hunt for spheres containing records of Spira's past.
In spite of her dry wit and demeanor, Paine values her friendship with Yuna and Rikku, but it is only after spending three months traveling around Spira by herself that she is able to express these feelings. Her physical mannerisms are boyish, perhaps a side effect from her past adventures with Nooj, Gippal, and Baralai.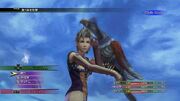 Before and during battle Paine can change her job class by changing dresspheres. She can use any of the common dresspheres and her Special Dressphere is the Full Throttle. Her Mascot dressphere is a Tonberry, and her Trainer's pet is a bird named Flurry. Paine's default dressphere is the Warrior.

Paine specializes in inflicting status aliments.
The girls all have different EXP totals and therefore progress at different rates. Paine's level growth is at first the most moderate, but later it becomes the fastest.
Dresspheres
Edit
A possessed Paine is fought in Den of Woe by Yuna.
Battle quotes
Edit
Blitzball stats
Edit
Due to their babysitting Wakka and Lulu's baby, Vidina, the Besaid Aurochs allow the Gullwings to take their place in the tournament. Blitzball is available to play in Luca during Chapter 5. The player can select to play the game upon landing, or drop in at the booth at Luca Stadium Entrance any time.




Stats

| LV | Start | Max |
| --- | --- | --- |
| SP | 30 | 30 |
| EN | 3 | 48 |
| AT | 2 | 20 |
| PA | 2 | 30 |
| BL | 2 | 20 |
| SH | 5 | 92 |
| CA | 1 | 10 |
| RNG | 70 | 130 |
| REC | 50 | 135 |
| RCH | 50 | 50 |
Paine Coin
Coin No.
59
Coin Value
9
Trait
Multiplier Echo
Location
Win from the Bevelle Core Sphere player in the Luca Stadium.
Creation and development
Edit
Paine was a newly introduced character, having not appeared previously in Final Fantasy X. "With the two (Rikku and Yuna) being a lot more talkative, there had to be someone with a calm, cool demeanor who could put a halt to their excessive chattiness. If it were Lulu in that role, she would have completely shut them down, and the story wouldn't have advanced at all. But in Paine's case, she's someone who can remain neutral, keep the others focused, and help the story carry on together with these two girls".
In regard to the dresspheres, and the warrior classes in particular, only Paine carries a unique sword. "This is her own weapon", says Alternate Costume Designer Tetsu Tsukamoto, "It doesn't belong to anyone else". The symbols on all three of Paine's warrior-class swords are similar.
From a design standpoint, Paine's Dark Knight is Tsukamoto's favorite. "I handled a lot of monster designs prior to working on the costumes for Final Fantasy X-2", he says. "It feels like the scales of the monsters apply to this design. That's why I like it a lot". He reveals each of the girls' head pieces reflect their personalities, with the sharp edges of Paine's head piece reflecting her prickly outlook.
The reason why Paine's Songstress costume is so different from the others is because the team could not decide whether she should be rock 'n' roll or Top 40, so Tsukamoto split the difference. For the Thief job Tsukamoto designed Paine and Yuna to have as much sex appeal as Tetsuya Nomura's original design for Rikku's default character. For the Trainer job Paine was originally supposed to carry a snake, but a programmer put the idea away because the animation would be too difficult to pull off.
Paine is voiced by Megumi Toyoguchi in Japanese and Gwendoline Yeo in English. Yeo has stated in an interview her favorite line from Paine is, "All I want to do is hurt you".
In the Final Fantasy X-2 HD Remaster Paine will occasionally say lines in Japanese during battle. The lines were done by her English voice actress, Gwendoline Yeo. This is because in the original Final Fantasy X-2: International + Last Mission Square got the English voice actresses to record the new English battle dialogue for the Festivalist and Psychic dresspheres, and recorded Japanese quotes one might hear any time during a battle. For Paine these new battle quotes are: Shimete yaru (I'm going to get you), Jyaana (Bye!), Sayonara (Goodbye) and Sore! (Take this!).
Paine shares her Japanese voice actress with Elena in Final Fantasy VII: Advent Children, Elena's older sister in Last Order -Final Fantasy VII-, Qun'mi Tru'e from Final Fantasy Type-0, and Aqua from the Kingdom Hearts series.
Musical themes
Edit
Paine's theme is "Paine's Theme." Vocal versions of her theme also exist, called "Misty Eyed" and "Nemuru Omoi..." ("Dormant Feelings..."). Despite her Punk Metal-like outfit both of her themes are more reminiscent of the Blues. Both vocal versions of the themes are sung by Megumi Toyoguchi as Paine. A piano arranged version of "Paine's Theme" is also found on the Final Fantasy X-2 Piano Collection album.

Other appearances
Edit
Paine appears as a recruitable character. She is of the Visitor race and has Warrior as her main job. Her attack is Delay Attack and her ability is Delay Counter.
Paine appears as an unlockable character, and is unlocked by collecting Turquoise Crystal Shards.
She is an Offense and Defense oriented character. Her Limit Break, Sword Dance, deals damage in proportion to her Strength, Agility and Stamina.
Abilities
Edit
Paine appears as a playable character. Her initial weapon is the Stoneblade.
Paine appears as an ally and a summonable Legend.
Paine appears and is represented Ice-elemental cards.
Non-Final Fantasy guest appearancesEdit
Paine appears in Kingdom Hearts II as a chibi fairy version of herself alongside similar versions of Yuna and Rikku. Calling themselves "treasure fanatics", the Gullwings are mercenaries spying on Leon for Maleficent, though after being left behind by Maleficent and some trickery from Donald involving promised treasure, they join with Leon and help defend Radiant Garden against the army of Heartless.
Later the Gullwings discover Donald's lie, but sympathize to Sora's cause. Instead of taking his items they give him the Keychain "Gullwing".
Paine makes an appearance in Kingdom Hearts χ [chi] as one of the obtainable character cards.
Itadaki StreetEdit
Paine is a playable character in the special edition of the Monopoly-like video game Dragon Quest & Final Fantasy in Itadaki Street Special available only in Japan alongside Yuna and Rikku.
Etymology
Edit
[view · edit · purge]Paine is an English surname of Norman derivation, meaning "someone who lived outside of a city". This may be appropriate considering her status as a new character. The English pronunciation (versus the more phonetic "pine" in Japanese) has the added connotation of her aggressive look.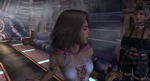 In the E3 2013 trailer for Final Fantasy X|X-2 HD Remaster, Paine's model in the Celsius scene has her with another mouth placed at the belt strap on the neck. Paine in other scenes in the trailer has the correct model.
As demonstrated by her ability to play blitzball, Paine can hold her breath for at least five minutes.
Many of Paine's battle quotes reference real-world pop culture; such as the quote "Ice, ice baby", the title of a song by

Vanilla Ice

, and "You. It's what's for dinner", a play on an ad campaign for beef. She is occasionally heard saying "Knowing is half the battle", a reference to the G.I. Joe cartoon's Public Service Announcements.
Paine is the first playable character shown during the opening FMV scene.
It is unknown if Paine could fight before Final Fantasy X-2, as she is never seen doing so in the Crimson Records. She is only seen in the final record that shows the group of four on a boat talking about their futures.
Only Paine is never shown wearing another dressphere in cutscenes; Yuna and Rikku wear their Songstress outfits at least twice.
Paine's promotional poster has text in Yevon script on the background that reads: "Tell me why did you pull the trigger".