PlayStation Portable
Talk

7
15,280 pages on
this wiki
Redirected from PSP
The PlayStation Portable (officially abbreviated as PSP) is a handheld game console released and manufactured by Sony Computer Entertainment. Its development was first announced during E³ 2003, and it was officially unveiled at a Sony press conference before E³ 2004. The system was released in late 2004. The PlayStation Portable has the ability to play video games, watch videos, listen to music, view images, as well as internet browsing functionality and wireless capabilities for connecting with other PSPs. By connecting it the internet, it is possible to purchase and play PlayStation One games from the PlayStation Network onto the PSP. PSP UMD games are region free.

List of Final Fantasy titles on UMD.
List of Final Fantasy titles on the PlayStation Network.
PSOne Classics
Edit
UMD Videos
Edit
Special Limited Editions
Edit
To mark the release of Final Fantasy games on the system, Square Enix has released several Limited Edition versions of the PlayStation Portable.
Crisis CoreEdit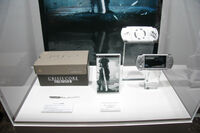 Square Enix released on September 13th, 2007, a Limited Edition PSP Slim; The console bundled with the game, as well as a Buster Sword wrist strap. The PSP itself is silver in color and featured the Final Fantasy VII 10th Anniversary logo as well as some artwork of Zack, Sephiroth, and Cloud drawn by Nomura. Only 77,777 units were available and all of them were sold in one day.
A similar bundle was also released in Europe, but lacked the Buster Sword wrist strap and the slightly changed cover art for the game. While this set was limited as well, it is not known how many packages were produced.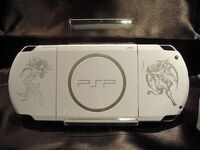 Square Enix bundled this Limited Edition PSP with the game itself. It was sold in a special one-week-only to a select group of winners of a lottery in Japan. Only Square Enix members could enter the contest.

External Links
Edit