Overkill
Talk

4
13,959 pages on
this wiki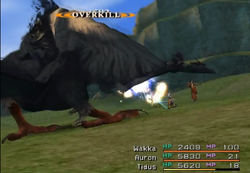 Overkill is a term used in Final Fantasy X that occurs when the character defeats a fiend or other enemy with excessive force. All enemies have an Overkill HP stat, and if a character lands a killing blow dealing damage equal to or greater than this number, the word "Overkill" appears before the fiend dissipates into pyreflies. Overkilled enemies are nearly always worth more AP and drop twice as many items than enemies that are not overkilled.
For example, the Area Conquest monster Don Tonberry will drop three Farplane Winds or a Dark Matter. If Don Tonberry is overkilled, however, it will drop six Farplane Winds or two Dark Matters.
It is a good strategy to always strive for Overkills, as the extra items and AP will make the party stronger, which will make subsequent Overkills easier to get.
The Overkill value is 1.5 times the total HP, except in the cases of enemies with greater-than-average HP, such as Horned enemies, the humanoid ogres such as Wendigo, mechanical constructs such as Defender Z and rarities such as Adamantoise.
List of Enemies with special Overkill damage
Edit