Ad blocker interference detected!
Wikia is a free-to-use site that makes money from advertising. We have a modified experience for viewers using ad blockers

Wikia is not accessible if you've made further modifications. Remove the custom ad blocker rule(s) and the page will load as expected.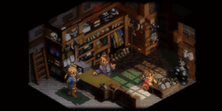 Outfitters are the shop system used in Final Fantasy Tactics. They sell items depending on the type of city the shop is located in. The list below shows in which locations Outfitters sell what types of items.
| Item Type | Magick City | Castles | Trading Ports | Cities | Clockwork Town |
| --- | --- | --- | --- | --- | --- |
| Knives | | | | | |
| Ninja Blades and Katana | | | | | |
| Swords | Broadsword only | | | | |
| Rods and Staves | | | | | |
| Axes | | | | | |
| Flails | | | | | |
| Guns | | | | | |
| Crossbows and Bows | | | | | |
| Instruments and Books | | | | | |
| Polearms | | | | | |
| Poles | | | | | |
| Bags | | | | | |
| Cloths | | | | | |
| Shields | | | | | |
| Helmets | | | | | |
| Hats | | | | | |
| Armor | | | | | |
| Clothing and Robes | | | | | |
| Accessories | | | | | |
| Throwing Items | | | | | |
| Healing Items | | | | | |