Ormi
Talk

3
13,964 pages on
this wiki
Ormi (ウノー, Unō?) is one of the two henchmen of Leblanc in Final Fantasy X-2, together with Logos. He uses a big shield as a weapon. He is somewhat stupid, and often lets his emotions get out of hand, such as the way he is stunned when the Gullwings steal one of the spheres they were looking for. He and Logos worked for Yevon before joining up with Leblanc.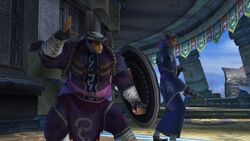 During the beginning of the game Leblanc poses as Yuna and organizes a concert in Luca. Rikku and Paine show up to disrupt the show to retrieve their stolen Garment Grid. When Ormi and Logos cut Rikku and Paine an escape route, Yuna appears shooting at their feet. After losing the battle against the Gullwings, they flee with Leblanc to their Chateau Leblanc hideout.
Near Mt. Gagazet's top, Ormi, Logos and Leblanc fight again with the Gullwings losing a second time. On the way to the top, Ormi sends some goons to halt Gullwings' progress in their run for the sphere, but the Leblanc Syndicate is beaten by Boris, guardian spider of the Gagazet's "shrine".
Ormi and Logos also join in the fiend hunt in the Mushroom Rock Road as means of getting to the entrance of the Den of Woe. They are surprised seeing the Gullwings spying on them and flee. While escaping they drop one of the Crimson Spheres needed to open the Den's gate.
Main article: Ormi (Boss)
Ormi is fought numerous times throughout Final Fantasy X-2, usually alongside Logos or Leblanc. He can occasionally be fought alone or with some of Leblanc's Goons.

Other Appearances
Edit
Ormi appears as a card in the Final Fantasy Trading Card Game. It depicts his Nomura artwork.
Ormi originally held the record of being the most recurring boss character in any Final Fantasy game, appearing in a battle a total of seven times in Final Fantasy X-2 until the introduction of Caius Ballad from Final Fantasy XIII-2 with a grand total of nine battles.
Ormi is blamed by Logos when Logos is caught red-handed by YRP, when they are watching a sphere in Logos's room that shows his "other" interest during the game.