A monastery built more than twelve centuries ago and said to house an extensive basement library.
—Description
Orbonne Monastery is a location from Final Fantasy Tactics. It is a monastery of the corrupt Church of Glabados, and houses the Underground Book Storage, a mysterious library holding old tomes from the era of St. Ajora, where much of the game takes place.
Refuge of Ovelia
Edit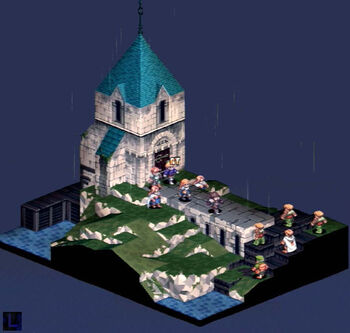 Princess Ovelia Atkascha took refuge at Orbonne Monastery during the events leading up to the War of the Lions. Her bodyguard Agrias Oaks, fearing for her safety, hired Goffard Gaffgarion and his mercenary troop to protect Ovelia. One of Gaffgarion's soldiers was Ramza Beoulve, whose sister Alma had also spent time at the monastery. The monastery came under attack by the Order of the Northern Sky, disguised as the Order of the Southern Sky.
Then Ramza, Agrias, and Gaffgarion rushed outside to deal with the attackers. During the fight, Delita Heiral, a real Southern Sky knight, slipped in a back door and abducted the Princess. Agrias heard Ovelia's screams and rushed back inside to help her, but it was too late: Delita escaped on his chocobo, but not before Ramza sighted him and recognized him. Ramza and Agrias then set off after Delita in order to rescue Ovelia.
Battle information
Edit
Ovelia's Prayer
Edit
 
A
B
C
D
E
F
G
H
I
J
1
4d
4h
4d
4h
7h
7h
7h
7h
8h
9h
10h
4d
4h
2
4d
4h
4d
4h
4d
4h
4d
4h
7h
—
13h
—
11h
4d
4h
3
4d
4h
4d
4h
4d
4h
4d
4h
9h
—
—
—
11h
5.5h
4
4d
4h
5.5h
5.5h
8h
—
—
—
—
—
5.5h
5
6.5h
7.5h
8h
10h
11h
—
—
—
8h
7.5h
6
7.5h
9.5h
9.5h
10h
11h
11h

11h

11h
9h
8h
7
8h
9h
10h
10h
10h

11h
11h
10h

8h
7h
8
8.5h
9h
9.5h
10h
10h
11h

11h

7h
7h
7h
9
8.5h
8.5h
8.5h
9h
9h
11h
11h
8.5h
7h
7h
10
7.5h
7.5h
7h
7.5h
8h
11h
11h
9h
8h
7.5h
11
5h
7h
7h
7h
7.5h
11h
11h
10h
9.5h
8h
12
4d
4h
6.5h
7h
7h
7h
11h
11h
10h
10h
8.5h
13
4d
4h
4d
4h
4d
4h
6h
6h
9h

10h
10h

10h
9h
14
4d
4h
4d
4h
4d
4h
5.5h
6h

7h
8h

9h
9h

9h
This is the very first battle and one of the easiest. Ramza has to protect the Princess Ovelia from attacking enemies. Most of the player's party are guest characters, but against such weak enemies, this should be no trouble to any player.
Other appearances
Edit
Orbonne Monastery appears in the crossover fighter as a playable map, and is the representative stage of Final Fantasy Tactics, added via update on February 22nd, 2018 for the Arcade version, and in late March, 2018 for the PlayStation 4 version.
The stage is a perfect recreation of the original battle map, complete with updated graphics and atmospheric details, including a visible sky. The two main changes include the larger scale and proportion of the map to accommodate the six fighters on the field, and the ability to wall run on the monastery itself for aerial attacks and leverage.
The battles begin with clear skies, and during the stage transition, the sky becomes cloudy and dark, plagued with thunderstorms, with rain showering the battlefield, a reference to the first battles that commence during the opening chapter.


This article or section is a stub about a location in Final Fantasy Record Keeper. You can help the Final Fantasy Wiki by expanding it.

This article or section is a stub about a location in Final Fantasy Brave Exvius. You can help the Final Fantasy Wiki by expanding it.