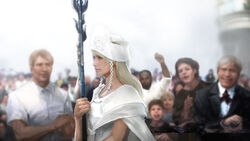 She most pure of faith is the Oracle, a daughter in the line of those said to commune with the Six. Blessed by the astral gods, she calls forth the power of Eos to heal those who are suffering and afflicted. Her devotion to helping all those in need has inspired reverence for her among people from all over the world.
—The Six and the Oracle - II
The Oracle (神凪, Kaminagi?, lit. Calmer of Gods) is a person in the Final Fantasy XV Universe charged with maintaining the stability of Eos by cleansing the world and communing with its gods. Oracles inherit their abilities through their family bloodlines, and they use them to halt the Starscourge, a plague on the world than lengthens nights. Legend has it the Astral Bahamut descended from the stars and picked the first Oracle from the land of Tenebrae. He bestowed the Oracle's powers upon her and gave her his trident.
The youngest Oracle in history is Lunafreya Nox Fleuret, the princess of Tenebrae. Her status alone allows Tenebrae to remain somewhat autonomous under Niflheim's rule. As the Oracle, Lunafreya uses her powers to implore the Astrals to lend Noctis Lucis Caelum their strength.
Etymology
Edit
[view · edit · purge]An oracle is a person or agency considered to provide wise and insightful counsel, prophetic predictions, or precognition of the future inspired by the gods.
Ad blocker interference detected!
Wikia is a free-to-use site that makes money from advertising. We have a modified experience for viewers using ad blockers

Wikia is not accessible if you've made further modifications. Remove the custom ad blocker rule(s) and the page will load as expected.