Cid:

Oh, shut up and help me remodel the Optimize page!

Please expand this article into a full one . This request can be discussed on the associated discussion page. Remove this notice upon completion.
Relm:

I couldn't miss the chance to practice my drawing!

This article is in need of a few pictures. Perhaps you can help by uploading a picture.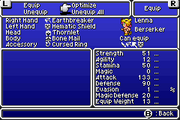 Optimize, also known as Optimal, Best Equip. and Optimum, is a command located within the equipment menu. The main purpose of this command is to equip the selected character with the best available equipment from the party's inventory.
A drawback of using Optimize is that it is based solely on attack power and physical defenses, ignoring stat boosts and magic defense. It is unknown if this is an oversight or an intentional decision from the developers. But nevertheless, this is odd behavior since Optimize is supposed to equip the best available equipment. However, in Final Fantasy V optimize will not ignore weapons such as Blood Sword and Excalipoor. See individual titles for more information and how Optimize works.
Appearances
Edit
The Hematic Shield, Bone Mail, Thornlet, and the Cursed Ring all share its annoyance of being equipped all the time when using the Optimize command if the player have these items in their inventory. These four items longer function with Optimize on the iOS version of Final Fantasy V.
The Optimize command in Final Fantasy VI automatically equips the best equipment the player has, but it does this based solely on attack power and physical defense, ignoring the equipment's stat boosts and magic defense. Thus, if a weapon is two attack points weaker than another weapon but gives +50 magic defense, Optimize will still equip the weapon with the higher attack power.
Beyond this oversight, Optimize will ignore a few specific weapons and armor. For example, although the Ultima Weapon has 255 attack power, Optimize will always ignore it and never equip it, even if it is the only weapon to be equipped, in which case the party member will go Unarmed. There are ten piece of equipment in total; Blood Sword, Soul Sabre, Ultima Weapon, Impartisan, Healing Rod, Tortoise Shield, Cursed Shield, Thornlet, Saucer, and Reed Cloak.
Also, if the player is an Imp, the Impartisan will have an attack power of 253, but Optimize will ignore the current status of the character and its effect on attack power and equip what would be the strongest weapon if the party member's status was normal.
These many oversights overall make the Optimize command very unreliable, as more often than not, the weapons and armor it equips are not the best the player has in their possession.