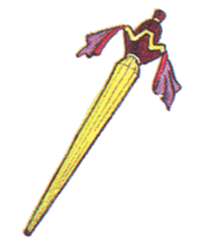 Omnirod (すべてのぼう, Subete no Bō?, lit. All Rod), also known as Supreme Pole and Ultimate, is a recurring weapon in the series.
Appearances
Edit
III Omnirod is the strongest rod in the original version, while being the third strongest in the 3D versions. It provides 93 Attack (20 in the NES version), +10 Intellect, and inflicts Gradual Petrify when attacking with it. It can be found in the Ancients' Maze, and can be equipped by the Onion Knight, Black Mage, Evoker, Magus, Summoner, and Sage.
XIV The Omnirod is a level 50 cane for Conjurers and White Mages obtained through the quest "Primal Focus." It has an item level 90 with a damage rating of 69, and grants Vitality +32, Mind +31, Piety +28, and Critical Hit Rate +26.
Dissidia012 Supreme Pole is a level 100 pole that provides -328 HP, +79 Bravery, +66 Attack, and Initial Assist Charge +40%. It can be obtained from the shop by trading 180,320 gil, Eight-fluted Pole, Mjollnir, and Kluya's Beard.
Etymology
Edit
[view · edit · purge]Omni is a Latin prefix meaning "all" or "every".