Oilboyle
18,297 pages on
this wiki
Talk

0
Oilboyle
オイルシッパー (

Oirushippā

?)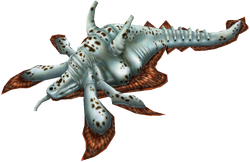 Statistics
Level
HP
Level
HP
1
2,136
19
4,152
STR
MAG
STR
MAG
37
26
73
49
VIT
SPR
VIT
SPR
47
76
74
85
SPD
EVA
SPD
EVA
6
0
6
1
EXP
AP
EXP
AP
40
10
220
10
Oilboyle
オイルシッパー (

Oirushippā

?)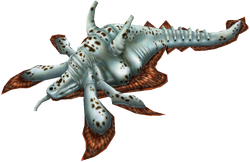 Statistics
Level
HP
Level
HP
20
4,270
29
5,356
STR
MAG
STR
MAG
75
51
93
62
VIT
SPR
VIT
SPR
76
86
90
91
SPD
EVA
SPD
EVA
6
1
6
2
EXP
AP
EXP
AP
230
10
320
10
Oilboyle
オイルシッパー (

Oirushippā

?)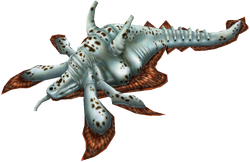 Statistics
Level
HP
Level
HP
30
5,480
100
15,630
STR
MAG
STR
MAG
95
64
232
149
VIT
SPR
VIT
SPR
91
91
200
130
SPD
EVA
SPD
EVA
6
2
6
7
EXP
AP
EXP
AP
330
10
1,030
10
Oilboyle is a boss in Final Fantasy VIII. Two are fought in Balamb Garden - MD Level. Much later on in the game, Oilboyles can be encountered in some parts of Ultimecia Castle as regular encounters - although only one at a time.
By Junctioning Fire to elemental attack and using Fire magic, the player can quickly defeat the two Oilboyles. They can also draw their own magic to cure status or heal. Oil Blast is a counter attack used when one third of Oilboyle's HP is removed. Sonic Wave targets all characters and can inflict Curse. Unlike most bosses, Quistis's Degenerator Limit Break can be used successfully against them. Another good Limit Break is Irvine's Fire Shot.
Other appearances
Edit


This article or section is a
stub
about an enemy in
Final Fantasy Record Keeper
. You can help the Final Fantasy Wiki by
expanding it
.