Ogrenix
Talk

4
13,969 pages on
this wiki
Relm

: I couldn't miss the chance to practice my drawing!
This article is in need of a few pictures. Perhaps you can help by

uploading

and adding a picture or two.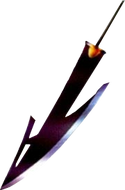 "An ancient mageblade, hallowed at its forging by the saints of a world long since forgotten."
—Description, Final Fantasy Tactics A2: Grimoire of the Rift
Ogrenix (オーガニクス, Ōganikusu?), also known as Organics, The Ogre, Ogre Nix or Organyx, is a recurring weapon in the series. It is often a mid-ranked weapon with mediocre power, and usually boosts some type of special ability.
Appearances
Edit
"Organic blade that users MP to deal criticals. May break."
—Description
Organyx, originally called Ogre Nix, is a high-ranked weapon Terra, Edgar, and Celes can use. It has an attack power of 182 and consumes 10 MP each hit for an automatic critical hit, but has a chance of breaking after each use. It also enables the Bushido and Runic command. It can be acquired by betting the Flametongue, Icebrand, Thunder Blade, or Zantetsuken in the Dragon's Neck Coliseum. It can also be metamorphed from the enemies Gigantos, Glasya Labolas, Hill Gigas, and Muud Suud. The Organyx is affected by the Capture Glitch as well as certain bugs exclusive to it.
The chance of breaking is calculated as follow:
If [0 (last digit of attacker's HP + 1)] = 0 then the Organyx breaks
Organics is a mid-ranked weapon for Cloud, and can be bought at Icicle Inn for 12,000 gil. It provides +63 Attack, 103% Attack%, +15 Magic, and has six Materia slots, with four being linked.
"Standard thief's sword."
—Description
The Ogre is a mid-ranked weapon for Zidane only obtained by synthesising two Mage Mashers. It provides +24 Attack, has innate Darkness status, and teaches the ability Soul Blade. It appears like two Mage Mashers combined. It costs 700 gil to synthesize at Lindblum, Treno, Alexandria, and Black Mage Village.
The Ogre is a claw for Rikku, and possesses any three Magic Plus % abilities. Auron has a similar weapon called the Ogre Blade, which also uses three Magic Plus % abilities.
Unlike in other games, the Organics in Final Fantasy XI is a high-level knight sword, which increases Strength, Attack, and critical hit rate at a cost of reducing maximum HP. It is dropped from the Achamoth.
"Manufactured for anti-Pulse operations, this powerful prototype was deemed too heavy for standard military use."
—Description
The Organyx is a model of a gun-sword for Lightning. It has the most growth in Strength and Magic value among her weapons, reaching 750 STR and 750 MAG if upgraded to the maximum level in its final form. As a balancing factor, Organyx also has the trait, Leadenstrike, which decreases ATB speed by 70%. Leadenstrike's effect is decreased as Organyx is transmuted into its second form, Apocalypse. The Organyx can be bought at Retail Network at Gilgamesh Inc for 280,000 gil.
Ogrenix is a mid-level greatsword that teaches the abilities Sanctify to Paladins, Full Assault to Ravagers, and Sword of Light to Lanistas. It provides +47 Attack and can be bought for 5,600 gil in the shop after creating it in the Bazaar after using a Zodiac Ore, Zingu Pearl, and Pagoda Wood.
Rem can equip the Ogrenix.

The Ogrenix is a level 50 greatsword that increases physical damage by 10% and boosts +37 Attack. It can be traded for at the shop for 16,280 gil, a Zweihander, a Gigas Bone, and a Transmogridust.
Zidane also uses The Ogre from Final Fantasy IX by fusing both of his Mage Mashers when executing most of his Brave and HP Attacks and most notably his EX Burst Reverse Gaia. This is a reference to the synthesis in Final Fantasy IX.
The Ogre returns as a weapon that is used throughout various attacks with Zidane as in the previous game. The Ogrenix is a level 90 Greatsword that provides +64 Attack, -1 Defense, and +7% Physical damage. It can be obtained by trading 158,000 gil, the Defender, Bahamut's Horn, and five Soldier's Hopes.
"An axe and a sword all wrapped in one. Best kept out of the hands of amateurs."
—Description
Organyx grants +3 to Attack. It can be equipped by Knight, Mystic Knight, Cecil, Bartz, Cloud, Squall, Seifer, Steiner, and Vaan.
The Final Fantasy VII version of the Organics resembles the Longswords used by Tidus in Final Fantasy X.