Oerba Yun Fang
18,939 pages on
this wiki
Talk

135
Oerba Yun Fang is a playable character in Final Fantasy XIII who appears as a non-playable character in Final Fantasy XIII-2 and as a temporary party member in Lightning Returns: Final Fantasy XIII. Her full name stands for "Fang of the Yun clan, from the village of Oerba".
In Final Fantasy XIII, Fang is introduced as a Gran Pulse l'Cie working with a division of the Sanctum's military under unknown pretenses. A strong woman surrounded by mysteries and driven by a personal agenda, Fang aims to complete her Focus to save her friend Vanille from a fate worse than death.
In Final Fantasy XIII-2, Fang appears alongside Vanille in Serah Farron's dreamworld.
In Lightning Returns: Final Fantasy XIII, Fang is the leader of a guild of bandits based in the Dead Dunes called Monoculus, and in search of an important relic.
Appearance
Edit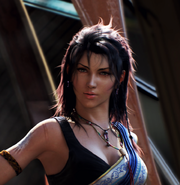 Fang is a tall woman at 5'9" and has the physical appearance of a twenty-one-year-old. Fang has bronze skin and wavy dark hair with a braid behind her left ear. Fang's eyes are green and there is a beauty mark beneath her right eye. Fang wears purple claw-shaped earrings. She has scars on her right arm and shoulder, and wears blue clothing resembling a traditional Indian sari adorned with tribal accessories. Fang wears a short black top, black sleeves over her forearms, tan leather open-toed sandals, and two fur pelts hanging from a cord beneath the belt that holds her spear. Fang has the brand of a l'Cie on her right shoulder and a large tattoo on the other. Unlike the other l'Cie whose brands are black and progress, Fang's l'Cie brand is white and static.
Personality
Edit
Fang is cocky, confident, and stubborn, and like Lightning, is sarcastic, determined, and independent, but insecure whenever talking about her past. She has a quick wit and a dry sense of humor and can be strict. Although she comes across as cocky and confident, Fang has a caring and compassionate side, especially towards Vanille, whom she would protect by any means. She cares greatly about her friends, willing to take extreme measures to protect them. In Final Fantasy XIII Episode Zero -Promise-, Lightning comments on Fang having a "wild fearlessness to her", and indeed, Fang never backs down from a fight regardless of her opponent. She believes in Lady Luck.
Unlike the other party members, Fang never undergoes any big change and thus remains largely the same in Final Fantasy XIII-2 and Lightning Returns: Final Fantasy XIII.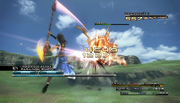 Fang wields a double-bladed spear that can split into a three-section staff. Fang is offensively-geared and has the highest Strength; her stats, abilities and weapons make her one of the party's best damage dealers. She joins last but performs well in her primary roles. Out of the six playable characters Fang has the longest Crystarium expansion, learning the most abilities, including every auto ability. She is the only one to not obtain the Ravager role before the Crystarium expansion in Chapter 10. Her weakness is not dealing well against enemies that resist or are immune to physical attacks.
Fang consistently has the strongest physical attack power, which makes her an excellent Commando. Fang joins as Lightning is becoming a stronger Ravager, so there's plenty of synergy with the pair. Fang learns all Commando abilities. Her Full ATB Skill, Highwind—a reference to the Dragoons of earlier installments—is a powerful Commando attack that will wipe the target's stagger gauge.
Fang is a powerful Saboteur, specializing in abilities that hinder enemy movement. The only major spell she doesn't have is Poison, but her wide range of abilities means she can weaken any powerful enemy. As a Sentinel Fang has the same skillset as Snow, the only difference being she has lower HP. Fang starts with Mediguard and has a weapon that increases damage from counterattacks.
Although her low Magic means she can't heal much with Cure or Cura as a Medic, she can use Esuna and Raise. She is a late bloomer as a Synergist and the only character with Vanille to learn the -ra level buff spells that are stronger but don't last as long. She has the fewest Synergist spells but learns the useful ones, including Haste.
Despite not majoring in the Ravager role Fang learns all elemental strikes as well as spells up to the -"ra" level with Water and Wind being her -"ga" specialty. She learns all of the passive abilities and has the third fastest spell-casting animations behind Lightning and Snow.
Base statistics
| Stat | Beginning/l'Cie | Mastered Crystarium |
| --- | --- | --- |
| HP | 750 | 24,000 |
| Strength | 145 | 2,005 |
| Magic | 90 | 1,300 |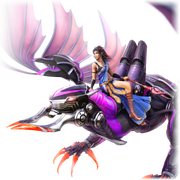 Fang's Eidolon is the non-elemental Bahamut that takes flight in his Gestalt Mode. Bahamut uses physical attacks and non-elemental spells. Using Fang's Saboteur role with it provides a deadly combination to some of the toughest enemies in the game.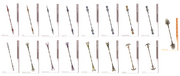 Fang uses a spear that has two forms like most weapons do in Final Fantasy XIII: her two-bladed spear can split into a three-section staff (sansetsukon in Japanese) in battle. On the blades of her spear Fang's name is engraved in the Pulsian alphabet. Fang's ultimate weapon is an allusion to Kain Highwind, a Dragoon from Final Fantasy IV.
As Fang is focused on offense, her weapons have high stats and few special abilities. Her starting weapon is Bladed Lance that has slightly higher Strength with few downsides. It can synthesize "Physical Wall".
Gae Bolg has "Improved Counter" that multiplies the damage from Sentinel's counterattack abilities by x1.4 and by x1.8 on LV II. The trade-off is the low max stats, but it comes with the ability to synthesize "Buff Duration".
Pandoran Spear has "Improved Debilitation" boosting the success rates of Slow, Curse, Pain, Fog and Daze by x1.2, while LV II boosts them by x1.4. It provides slightly more Magic and can synthesize "Buff Duration".
Partisan is Fang's Magic boosting weapon, and upgrading it into a Kain's Lance will almost even out her overall stats. It can synthesize "Magic Wall" although its usefulness is negligible.
Punisher has "Stagger: TP Charge that restores a bit of TP if Fang initiates stagger. It has low max stats and the "Magic Wall" synthesis ability.
Shamanic Spear has high Magic at the cost of "Enfeeblement" weakening all physical attacks and the synthesis ability "Magic Damper".
Dragoon Lance is a weapon sold by Gilgamesh, Inc. that provides the highest Strength with "Stifled Magic" that cripples her magical abilities, and "Ethereal Mantle" synthesis ability.
Taming Pole has strong stats with "Stagger Lock". It is a popular choice for upgrading as Fang can spend most of her time leading as a Commando or Saboteur, and thus not be hindered by Stagger Lock.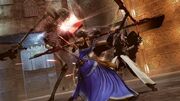 Fang aids Lightning in battle as an uncontrollable guest character, wielding her default weapon from Final Fantasy XIII, the Bladed Lance. She joins Lightning's party twice: after Lightning joins Monoculus in the Dead Dunes and Fang asks her to open the path to the Temple Ruins Fang will stay in Lightning's party whenever she is on the Dead Dunes until the main quest of that region is complete; she returns to aid Lightning on the final day in Luxerion Cathedral's Temple of Light, where Lightning finds Fang battling a Chimera and joins in the fray.
Her default role is akin to that of a Commando, using Attack, Ruin and Armor Breaker. She uses Armor Breaker if the opponent is buffed. Usually she will attack the same enemy as Lightning, but when fighting multiple enemies who are close together, she will attack all of them with Blitz, and sometimes use Magnet to set them up beforehand. If the enemy is debilitated, either by player use or stagger conditions, Fang will use various "Chaser" attacks (such as Deprotect Chaser, Slow Chaser, Poison Chaser), changing her attack animation and dramatically improving her damage output. This is a subtle reference toward her Saboteur role from Final Fantasy XIII. She will also use Mediguard as a nod to her primary role as a Sentinel in Final Fantasy XIII.
It is impossible to directly observe her stats and as she does not have an HP gauge, she cannot be KO'd in battle. She can be knocked back by a powerful blow, but she will return to the fight soon after.
Abilities
Edit
| Ability | Effect | Condition |
| --- | --- | --- |
| Attack | Deals physical damage to target. | Normal. |
| Ruin | Deals magic damage to target. | Normal. |
| Blitz | Deals physical damage to target and nearby foes. Extends stagger time. | Multiple targets in close range, often after Magnet. |
| Armor Break | | Target resists damage. |
| Magnet | Pulls nearby foes toward the target area and deals magic damage. | Multiple targets. |
| Deprotect Hunter | Deals extra physical damage if Deprotect is inflicted. | Target afflicted with Deprotect. |
| Deshell Hunter | Deals extra magical damage if Deshell is inflicted. | Target afflicted with Deshell. |
| Mediguard | Reduces the damage taken from enemy attacks, and slowly restore HP while guarding. | Low HP or Poison status. |
| Bravery | Increases physical damage. | |
| Slow Hunter | Deals extra physical damage if slow is inflicted. | Target afflicted with Slow |
| Curse Hunter | Deals extra physical damage if curse is inflicted. | Target afflicted with Curse. |
| Debrave Hunter | Deals extra physical damage if debrave is inflicted. | Target afflicted with Debrave. |
| Defaith Hunter | Deals extra physical damage if defaith is inflicted. | Target inflicted with Defaith. |
| Poison Hunter | Deals extra physical damage if poison is inflicted. | Target afflicted withPoison. |
| Heavy Slash | Deals large amount of damage. | Target is staggered. |
| Flamestrike | Deals fire-attribute physical damage. | Target's weakness is fire. |
| Froststrike | Deals ice-attribute physical damage. | Target's weakness is ice. |
| Sparkstrike | Deals lightning-attribute physical damage. | Target's weakness is thunder. |
| Galestrike | Deals wind-attribute physical damage. | Target's weakness is wind. |
Creation and development
Edit
Fang was originally written as a male character.[3] Early in development, Lightning was meant to be a flirtatious character with more sex appeal but these traits were transferred to Fang to make Lightning a more serious character.[3] Character designer Tetsuya Nomura has stated that when compared to the other characters personality-wise, Fang is stronger than Lightning and more stubborn than Snow.
Director Motomu Toriyama stated that since Final Fantasy XIII one of Fang's defining characteristics is her willingness to do whatever is necessary to protect Vanille. In Lightning Returns she seems resigned, which is the dark side of her heart. She is more hesitant, as though she fears the consequences of her actions.[4]
Fang's Japanese voice actress is Mabuki Andou while her English voice actress is Rachel Robinson. Robinson also provided voice for Holly Whyte from Bravely Default.
Fang and Vanille speak with a different accent from the rest of the party. In the Japanese version this is the Okinawan dialect of Japanese, and in the English localization they speak with an Australian accent. The idea to cast two characters with Australian accent came from the localization team, who requested the voice directing team to look for either Australian or New Zealand sounding voices. The rationale was that the team wanted Fang and Vanille to sound like from another world, but more in a sense of having a different melody to their voices rather than a thick accent.[5]

Musical themes
Edit
In Final Fantasy XIII, "Fang's Theme" is a short and uplifting orchestral piece. It contains a small variant of the main battle theme, "Blinded By Light", and plays at many points during the game.
Two rearrangements of her theme include the second version of "The Pulse l'Cie", which plays during her flashback of the fifth day when she and Vanille separate at the Euride Gorge energy plant, and "Dust to Dust", a melancholic theme with vocals that plays as Fang tells Lightning about her past in Palumpolum and as the background theme for Oerba.
In Lightning Returns: Final Fantasy XIII, Fang has a new leitmotif titled "Fang's Theme ~The Boss~", an orchestral piece with a haunting chorus that plays during moments in the Dead Dunes' underground maze.
Other appearances
Edit
Fang makes a cameo appearance in Dissidia 012 Final Fantasy as a tutor in the in-game manual. She teaches the player about Assists alongside Hope.
Fang appears in Pictlogica Final Fantasy as a playable character.
Fang is an ally and a summonable Legend in Final Fantasy Airborne Brigade.
Fang is a playable character who could be recruited during the Challenge Event Fang's Oath as the First Time Reward for completing the event's The Fifth Ark - Trials stage on the Classic difficulty.
Assessment
Fang is a Pulse l'Cie. Her combat role is Physical Attack.
Fang fills the role of a typical Dragoon with her high physical stats and top-ranked Speed. This being the case, it may very well be a toss-up between her and longtime Dragoon stalwart Kain for a spot on the player's fighting party, as there is yet to be a dungeon requiring the use of multiple Dragoons. Gender does not seem to play into statistical balance as one may be inclined to think; where a maxed-out Kain has just over 4,800 HP, Fang may break 5,000 when maxed, a rare feat.
Stats
| Level | HP | Attack | Defense | Magic | Resistance | Mind | Accuracy | Evasion | Speed |
| --- | --- | --- | --- | --- | --- | --- | --- | --- | --- |
| 1 | 202 | 12 | 8 | 7 | 7 | 8 | 20 | 22 | 100 |
| 10 | 1,019 | 30 | 25 | 15 | 18 | 17 | 20 | 22 | 107 |
| 20 | 1,758 | 50 | 40 | 24 | 30 | 28 | 20 | 23 | 114 |
| 30 | 2,441 | 71 | 54 | 35 | 43 | 40 | 21 | 23 | 121 |
| 40 | 3,090 | 91 | 68 | 46 | 55 | 52 | 21 | 24 | 127 |
| 50 | 3,716 | 112 | 81 | 58 | 68 | 65 | 22 | 25 | 133 |
| Rank | 4 | 5 | 2 | 1 | 1 | 1 | 3 | 3 | 4 |
Abilities
Fang can use Combat abilities up to rarity rank 5, Support abilities up to rarity rank 3, Celerity abilities up to rarity rank 4, and Dragoon abilities up to rarity rank 5.
Her default Soul Break is Adrenaline which at the expense of one Soul Gauge segment temporarily raises the user's Attack. The spear Glaive (XIII) allows Fang to use Pulsar Burst which at the expense of one Soul Gauge segment deals five ranged physical attacks to random targets, each hit dealing 102% damage potency of a conventional attack totaling to 510% damage potency, and inflicting Blind with 21% accuracy for 60 seconds.
Equipment
Fang can equip the following weapon types: daggers, swords, and spears. The spear Glaive (XIII) allows Fang to use Pulsar Burst.
She can equip the following armor types: hats, light armor, heavy armor, and bracers.
She can equip accessories.
Gallery
Fang appears in the Final Fantasy Trading Card Game. She is shown in a close-up view, the same picture shown on her Status screen in the main menu, and her official renders from Final Fantasy XIII and Lightning Returns: Final Fantasy XIII. Her cards are fire-elemental.
Fang appears on Triple Triad cards in the version playable via Final Fantasy Portal App.
Merchandise
Edit
An action figure of Fang was released as a part of the Play Arts series.
Etymology and symbolism
Edit
[view · edit · purge]In Korean yun means "allow, consent" or, "soft, sleek". In Chinese, the name yun means "cloud". The Yun in Fang's name may refer to Zhao Yun, a Chinese war general known for his use of the spear.
The characters of Fang and Vanille are based on the Ragnarok myth of Líf ("life") and Lífþrasir ("eager for life")—the only humans who will survive Ragnarok. They sleep through the destruction of the earth and upon awakening will find the earth verdant again. Líf and Lífþrasir will become the progenitors of a new race of humans, and their descendants will inhabit the world. This is congruent with the idea that Fang was originally envisioned as a male character.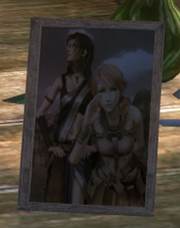 Many assumed Fang's eidolith is supposed to take the form of a fang as an allusion to her name, but Fang's crystal appears in Final Fantasy XIII-2 as an adornment for monsters where it is called "Crystal Petal".

Fang's crystal is used for the "Treasure Hunter" trophy/achievement.

Fang loves salty foods, as mentioned in Final Fantasy XIII Episode Zero -Promise-.
A photo of Fang and Vanille can be found in Oerba, proof of their past existence on Gran Pulse.
Fang is the only playable character not present in Chapter One. She is briefly seen in Snow's flashback at the end of Chapter Two, and makes her first proper appearance in Chapter Three. This makes her the only party member who was not in the Purge.
If one turns on subtitles and speaker names at the beginning of Chapter 7, Fang's name appears when she is talking, but her Datalog entry will still not display her name.
Unlike Vanille's, Fang's full name is never spoken in the first game, although in Lightning Returns: Final Fantasy XIII Hope calls her by her full name when talking about her with Lightning.
Fang shares a battle quote with Rikku from Final Fantasy X: "It's all in the wrist!"
Fang is the only character to ride a chocobo sidesaddle, although in Lightning Returns: Final Fantasy XIII Lightning also rides sidesaddle if she wears a dress.
When Fang uses the elevator lever in the Taejin's Tower she pushes it with her leg while the others use their arms.
References
Edit