Oerba Dia Vanille
19,140 pages on
this wiki
Talk

186
Oerba Dia Vanille [vʌ'niːɫ] is a playable character, the narrator and the deuteragonist in Final Fantasy XIII. Her full name stands for "Vanille of the Dia clan, from the village of Oerba" She is a mysterious girl who accompanies her childhood friend, Fang. Despite facing many hardships, Vanille remains a caring and upbeat person. After joining Hope Estheim and his mother Nora as a victim of the Purge, Vanille is drawn into a conflict to decide the fate of Cocoon.
In Final Fantasy XIII-2, she makes a cameo appearance alongside Fang when they meet Serah Farron in her dream world.
In Lightning Returns: Final Fantasy XIII, Vanille has been gifted with a special power and lives under the care of a religious cult called the Order of Salvation.
Vanille concentrates on casting magic from a distance, as opposed to the close combat style of Lightning and Snow, although her casting animation is slow compared to most other party members. Despite being able to use the Attack command at the start of the game, she cannot use it after Chapter 3 because she does not have the Commando role, which she unlocks in Chapter 10.
When the player first acquires Vanille in the Pulse Vestige, she already has three ATB slots as she is already a l'Cie, though unable to select magical abilities or utilize paradigm shifts. She's the only one able to fight her Eidolon with five ATB slots as it's possible, albeit difficult, to acquire a third-tier weapon before that.
Vanille has the second highest Magic stat in the game, making her a good Ravager, and she can learn all elemental spells up to the -"ra" rank with Fire and Ice being her -"ga" specialty. She lacks the elemental strikes. She learns Fearsiphon and Overwhelm, but does not learn Vigor.
She is an effective Saboteur, specializing in abilities that lower the enemies' defenses. She is the first of the party to access Saboteur and is the most developed SAB for the majority of the game. She learns every spell except for Slow, Curse and Daze, and has a weapon that boosts the success rate of debuff spells.
She has the only Full ATB skill that is not a Commando or Ravager ability: Death, a Saboteur ability that deals heavy non-elemental magic damage to an enemy and has a 1% base chance of inflicting instant KO, but the success rate is boosted by the SAB role bonus and the number of status ailments on the enemy. Unlike Snow's Sovereign Fist or Fang's Highwind, Vanille's Death does not clear the enemy's chain gauge and benefits from the En-spells, allowing her to reach the damage cap and do so repeatedly.
Vanille's greatest strength lies in her Medic role, where she rivals Hope when it comes to effective healing as both learn all MED skills and, due to her higher HP stat, is less likely to be knocked out by powerful attacks. She learns the MED spells earlier, but Hope tends to have higher MAG so he can heal for more.
Vanille and Fang are the only party members who can access the -ra level buff spells as Synergists, and she also learns Veil, Vigilance and the Bar-spells. She doesn't learn Haste and or En-spells.
Compared to the other party members, Vanille makes a weak Commando or Sentinel. As Commando she doesn't learn Blitz or Launch and has low STR, but can cast Ruin and Ruinga for damage, although she doesn't get Ruin until stage 7, and Adrenaline until stage 8. She learns Reprieve and Mediguard as Sentinel.
Base statistics
| Stat | Beginning/l'Cie | Mastered Crystarium |
| --- | --- | --- |
| HP | 350 | 21,050 |
| Strength | 23 | 1,400 |
| Magic | 35 | 1,700 |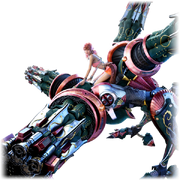 Vanille's Eidolon is Hecatoncheir, a multi-armed, Earth-elemental Eidolon that transforms into a bipedal mech with four machine gun turrets. Vanille calls her Eidolon by the pet name "Hecaton" (a nickname found on the inner circle of his summon symbol, rather than "Hecatoncheir").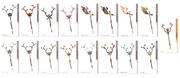 Vanille's weapon is a binding rod. Its headpiece resembles a pair of antlers and the body consists of four long wires with hooks that deal damage to enemies by latching on and pulling, similar to a fishing rod. Vanille is the only character who has no weapon when she first joins the party.
Vanille starts with Binding Rod that boosts her STR, but as Vanille doesn't have many physical attack abilities this weapon is quickly outclassed by her other weapons. Pearlwing Staff provides the highest MAG of all her weapons and has the synthesized "Magic Wall" ability.
Her Belladonna Wand has the "Improved Debuffing" passive ability that boosts the success rates of Poison, Deshell, Deprotect, Imperil and Dispel by x1.2, while Lv II boosts them by x1.4, and has the ability to synthesize "Buff Duration".
Healer's Staff has "Improved Cure that augments the healing of MED spells by 10%, and 20% at Lv II, but has low max stats. Rod of Thorns is her balanced weapon with equal STR and MAG and the ability to synthesize "Magic Wall". Heavenly Axis has "Stagger Lock" and high MAG, but seeing that Pearlwing Staff gives more MAG without the Stagger Lock this weapon is not so useful for her.
Mistilteinn has "Ally KO: Power Surge" that provides a 110% boosts to damage dealt by Vanille for each KO'd ally, while Lv II boosts 130%. With this weapon fully upgraded and two KO'd allies, Vanille can potentially do x3.6 damage and still add to that with "Low HP: Power Surge", but the benefits would be situational.
Tigerclaw is the weapon available for Vanille from Gilgamesh, Inc. with high max stats but with "Leadenstrike" that considerably slows her down.

Creation and development
Edit
According to the Final Fantasy XIII Ultimania Omega, the development team at one point considered making Vanille the official main character, but dismissed the idea as they had already released a trailer and art featuring Lightning in that role.
Of all the main characters introduced since Final Fantasy XIII, Vanille might be the one who had changed the least. In the original game, many lives were lost as the result of her lies. The torture she suffered from the resultant guilt led Vanille to believe that sacrificing herself to save the souls of the dead would rectify everything she had done, but her "purity" is why she could be easily misled about the true consequences of her well-intentioned sacrifice. [3]
Vanille and Fang speak with an accent different from the rest of the party. They speak in an Okinawan dialect of Japanese in the original version, and with an Australian accent in the English localization. The idea to cast two characters with Australian accents came from the localization team, who requested the voice directing team to look for either Australian- or New Zealand-sounding voices; the rationale was that the team wanted Fang and Vanille to sound like they were from another world, but more in a sense of having a different melody to their voices, rather than a thick accent.[4]
Vanille's Japanese voice actress is Yukari Fukui. Vanille shares her Japanese voice actress with Terra Branford from Dissidia Final Fantasy and Dissidia 012 Final Fantasy.
Her English voice actress is Georgia van Cuylenburg. Georgia van Cuylenburg spent six months recording Vanille's dialogue; she had two recording sessions per week which lasted four hours.[5] As with the rest of the English cast of Final Fantasy XIII, Georgia van Cuylenburg was able to listen to the original Japanese dialogue, which had been recorded first, for tone reference.
While the other characters in Final Fantasy XIII were intended to be "Americanized", Georgia van Cuylenburg was asked to adhere to the original Japanese performance and use a "high, squeaky, and upbeat" voice,[5] as Vanille initially wants to misdirect others with her happiness. Georgia van Cuylenburg has stated that the most difficult aspect of voicing Vanille was making a type of high-pitched moan required for the character, which was not easy to make sound natural.[5]
During the February 2014 interview with Final Fantasy Union, Georgia van Cuylenburg commented how she and Vanille are alike with their past as Georgia also had several issues and hid it under a cover of a carefree girl, and compared Vanille's breakdown in the scene with Sazh to the similar situation from years before recording Vanille to when she lost her hair as a result of alopecia, which helped her in relating to her voiced character and enhance her performance.[6]
Musical themes
Edit
Final Fantasy XIIIEdit
"Vanille's Theme" is composed of solo piano and represents her cheerful nature and inner guilt. "Prelude to Final Fantasy XIII" recurs as a motif within "Vanille's Theme," which is intended to reflect her role as the game's narrator and originator of the story.[7]
Variants of her theme include three orchestral arrangements called "Lost Hope," "Eidolons on Parade," and "Memories of Happier Days." The third variant "Memories of Happier Days," begins with solo piano like her original theme but turns into a melancholy but uplifting orchestral piece. A short reprise of her theme is heard in "Face It Later," "Sulyya Springs," and at the beginning of "The Road Home." An orchestral motif of her theme is heard in "Nascent Requiem," the final battle theme, and "Determination."
"The Captive Saint" begins with a revised version of "Memories of Happier Days," and transitions into a calm then eerie piece. It's heard when Lightning reunites with Vanille and they converse in God's Sanctum. "Memories of Happier Days" plays when Lightning reunites with Mog in the Wildlands, and when Lightning completes Bhakti's quest, "The Life of a Machine" in the Dead Dunes. It is mixed into the end credits theme, "Credits ~Light Eternal~." Vanille's leitmotif is also reprised in "A New World," which plays as Vanille and Fang guide the dead to the Ark.
Arrangement album appearances
Edit
"Vanille's Theme" is part of the "Vanille's Theme ~ Memories of Happier Days ~ The Road Home" track on the album. It is the sixth track on the album.
Other appearances
Edit
Vanille is unlocked by collecting Silver Crystal Shards.
She is a support-oriented character.
Abilities
Edit
Vanille appears in Pictlogica Final Fantasy as a playable character. Her initial weapon is the Guard Stick.
Vanille is an ally and a summonable Legend in Final Fantasy Airborne Brigade.
Vanille was first unlocked after collecting 1,000 memory prisms during the Survival Event The Pulse Fal'Cie. During the Challenge Event Chasing Hope she could be recruited as the First Time Reward for completing the event's Sunleth Waterscape on Classic difficulty. As of January 13, 2016, Vanille can be recruited upon accepting and completing the Bonus Quest, "Complete Lake Bresha 1 Classic (XIII)".
Assessment
Vanille is a Pulse l'Cie. Her combat role is Master of Magic.
Vanille's stats and abilities position her as a Sage even as she is more adept as a White Mage; if the game wasn't a microcosm of the mainline series, one could call her a Synergist and a Saboteur from her own game as well, given her Soul Break set. A good strategy to deploy Vanille would be to do so alongside a mage from the school she doesn't use.
Stats
Level
HP
Attack
Defense
Magic
Resistance
Mind
Accuracy
Evasion
Speed
1
170
7
6
11
9
11
20
22
92
10
661
17
13
28
29
35
20
22
96
20
1,208
28
21
48
47
57
20
23
101
30
1,754
39
31
67
64
78
21
24
106
40
2,301
51
40
87
80
97
21
24
112
50
2,847
62
51
106
96
116
22
25
118
60
3,393
73
61
125
111
134
22
25
124
Rank

Max: 5

2
1
1
4
3
5
3
3
3
Abilities
Vanille can use the following school of Physical skillset: Support up to rarity rank 2. She also can use Black Magic up to rarity rank 4, White Magic up to rarity rank 5 and summon magic up to level 3.
Her default Soul Break is Deshell which at the expense of one Soul Gauge segment deals magic damage to all targets and lowers their resistance. The rod Binding Rod (XIII) allows her to use Deprotega which at the expense of one Soul Gauge segment deals magic damage to all targets and lowers their defense.The rod Wyrmfang (XIII) allows her to use Oerba's Boon' which restores HP and grants Protect status to the entire party.
Equipment
Vanille can equip the following weapon types: daggers, rods and staves. The rod Binding Rod (XIII) allows her to use Deprotega.
She can equip the following armor types: hats, robes, light armor and bracers.
She can equip accessories.
There are many cards depicting Vanille. One of them is a close-up of Vanille's face, and another displays her Final Fantasy XIII render. A card for Hecatoncheir in Gestalt Mode also exists, with Vanille riding atop it. Another card displays Vanille's render from Lightning Returns: Final Fantasy XIII and from Theatrhythm Final Fantasy Curtain Call. The cards are earth-elemental reflecting the element of her Eidolon from Final Fantasy XIII.
Vanille appears on Triple Triad cards in the version playable via Final Fantasy Portal App.
Non-Final Fantasy guest appearancesEdit
Vanille appears as a selectable avatar in Kingdom Hearts Mobile. She and Sazh are currently the only characters from Final Fantasy XIII to appear in the game.
Vanille appears as an avatar in the Nintendo DS Kingdom Hearts Re:coded game, along with Serah, Snow, Sazh and Lightning.

Merchandise
Edit
Action figures of Vanille have been released as part of the Play Arts series.
Final Fantasy XIII
Final Fantasy XIII-2
Lightning Returns: Final Fantasy XIII
Etymology and symbolism
Edit
[view · edit · purge]Vanille means "vanilla" in French. [view · edit · purge]"Dia" and "Día" mean "day" in Portuguese and Spanish.
In ancient Greek religion and folklore, Dia means "heavenly," "divine," or "she who belongs to Zeus." The name is actually attributed to several figures thus is treated like an honorific or title. This may allude to her bright personality.
The Japanese pronunciation of Dia, with a long "i" sound, is also a common Japanese abbreviation for "diamond", possibly alluding to Hecatoncheir being an Earth-elemental summon. Vanille shares her clan name with the spell Dia from Final Fantasy and Final Fantasy XI. However, the Japanese pronunciation of her clan name is different.
The characters of Fang and Vanille are based on the Ragnarok myth of Líf ("life") and Lífþrasir ("eager for life") — the only humans who will survive Ragnarok. They sleep through earth's destruction and upon awakening will find the earth verdant again. Líf and Lífþrasir will become the progenitors of a new race of humans, and their descendants will inhabit the world. This is congruent with the idea that Fang was originally envisioned as a male character.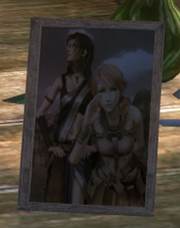 Vanille's eidolith is used for the "Instrument of Faith" trophy/achievement.
A photo of Vanille and Fang can be found in Oerba, proof of their past existence.
While her fellow comrades are branded on the upper half of their bodies, Vanille's brand is located on the lower half of her body.
Final Fantasy XIII includes a nude character model for Vanille, for the scene where she comes out of crystal stasis.[8]
In Episode Zero -Promise-, Fang mentions that Vanille loves cooking and making up her own meals, though they are not always good.
Vanille is seen in a cutscene from the intro to the title screen of Final Fantasy XIII, but the scene where she overlooks Gran Pulse is never shown in the actual game.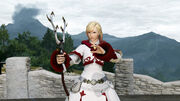 References
Edit