Oerba Dia Vanille
Talk

182
16,128 pages on
this wiki
"Vanille is an endearing young woman with a relentlessly sunny disposition. Her bright personality gives no hint of the dark resolve that lies within."
—Online Description
Oerba Dia Vanille [vʌ'niːɫ] is a playable character and the narrator in Final Fantasy XIII. Her full name stands for "Vanille of the Dia clan, from the village of Oerba".
In Final Fantasy XIII, Vanille is a mysterious girl who accompanies her childhood friend, Fang. Despite facing many hardships, Vanille remains a caring and upbeat person. After joining Hope Estheim and his mother Nora as a victim of the Purge, Vanille is drawn into a conflict to decide the fate of Cocoon.
In Final Fantasy XIII-2, she makes a cameo appearance alongside Fang when they meet Serah Farron in her dreamworld.
In Lightning Returns: Final Fantasy XIII, Vanille has been gifted with a special power and lives under the care of the Order of Salvation, a major religious cult based in the city of Luxerion dedicated to worshiping the god Bhunivelze.
Appearance and Personality
Edit
Final Fantasy XIII and Final Fantasy XIII-2Edit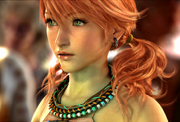 "My name is Oerba Dia Vanille. I'm a l'Cie from Gran Pulse. And to everyone on Cocoon... evil."
—Vanille to Sazh
Despite her chronological age, Vanille has the physical appearance of a nineteen year-old. Her bright red hair is tied in curled pigtails. She has green eyes, and pierced ears with silver hoop earrings. She wears a light pink halter top, an orange and yellow skirt, and beige boots. She wears a fur pelt around her waist, which she uses to carry her weapon. According to Dengeki PS3 magazine, it is made from a bear she defeated herself. She wears numerous bracelets, three beaded necklaces, and an assortment of beads attached to various parts of her clothing. Her outfit is inspired by the traditional clothes of the Namibian Himba women. Vanille's l'Cie brand is located on her upper left thigh, but mostly remains hidden beneath her skirt.
Vanille has a childlike innocence, and is considerate, understanding, and, at times, headstrong and stubborn, but has the maturity of someone her age. Vanille is empathetic, easily driven to tears, and cares deeply for other people, Fang in particular. Vanille tries to remain positive in situations others deem hopeless. She tries to cheer up her friends when they're down and see the bright side of things, but her sanguine personality is a façade to hide her fear and guilt. Throughout her journey, Vanille faces her past mistakes, learns to stop running from her problems, and to fight for her friends and what she believes in.
Lightning Returns: Final Fantasy XIIIEdit
"For centuries, Vanille and Fang slept within a crystal pillar, holding Cocoon aloft in the sky. But then, a few short years ago, they awoke.
As Vanille opened her eyes, she realized she was given a special gift; she could hear the voices of the dead. Dubbed the saint, she spends her days under the Order's protection in Luxerion."
—Online description[3]
Vanille now wears a headdress resembling a traditional Indian dupatta. The headdress is comprised of a semi-transparent red and gold veil that covers her hair and shoulders, gold ornaments that cover her forehead, and two long silver horn-like ornaments that resemble Bhunivelze's crest (the Order's symbol), attached to the back and curving around the sides of her head.
Living under the Order's constant protection and subject to its teachings, Vanille is now a devout follower of Bhunivelze. She is also close friends with Lumina, who describes them as being "thick as thieves". From listening to the voices of the dead and being deeply affected by their suffering, Vanille has become solemn and rarely shows any trace of her upbeat personality. She continues to feel guilty for the deaths that her past actions had caused and hopes to use her new power to atone for them. In Final Fantasy XIII: Reminiscence -tracer of memories-, it's said that one of Vanille's faults is that she takes everything seriously and sometimes tends to be a pushover.

"I'm not all smiles and sunshine!"
—Vanille in battle
See also: Oerba Dia Vanille/Crystarium
Vanille concentrates on casting magic from a distance, as opposed to the close combat style of Lightning and Snow. Despite being able to use the Attack command at the start of the game, she cannot use it after Chapter 3 because she does not have the Commando role, which she unlocks in Chapter 10. When the player first acquires Vanille in the Pulse Vestige, she already has three ATB slots as she is chronologically already a l'Cie, though she is unable to select magical abilities or utilize paradigm shifts. She's the only one able to fight her Eidolon with five ATB slots as it's possible, albeit difficult, to acquire a third-tier weapon before that.
Vanille has the second highest Magic stat in the game, making her a good Ravager, and she can learn all elemental spells up to the -"ra" rank with Fire and Ice being her -"ga" specialty. She is an effective Saboteur, specializing in abilities that decrease the enemies' defenses. She has the only Full ATB Skill that is not a Commando or Ravager ability: Death, a Saboteur ability that deals heavy non-elemental magic damage to an enemy and may inflict instant KO. Vanille's greatest strength lies in her Medic role, where she rivals Hope when it comes to effective healing and, due to her higher HP stat, is less likely to be knocked out by powerful attacks.
Base Statistics
| Stat | Beginning/l'Cie | Mastered Crystarium |
| --- | --- | --- |
| HP | 350 | 21,050 |
| Strength | 23 | 1,400 |
| Magic | 35 | 1,700 |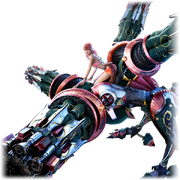 "Let's see some fireworks!"
—Attacking with Hecatoncheir in Gestalt Mode
Main article: Eidolon (Final Fantasy XIII)#Hecatoncheir
Vanille's Eidolon is Hecatoncheir, a multi-armed, Earth-elemental Eidolon that transforms into a bipedal mech with four machine gun turrets. Vanille calls her Eidolon by the pet name "Hecaton" (a nickname found on the inner circle of his summon symbol, rather than 'Hecatoncheir').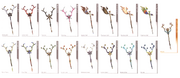 Main article: List of Final Fantasy XIII Weapons#Rods
Vanille's weapon is a Binding Rod. Its head piece resembles a pair of antlers and the body consists of four long wires with hooks that deal damage to enemies by latching on and pulling, similar to a fishing rod. Vanille is the only character who has no weapon when she first joins the party.

Main article: Oerba Dia Vanille/Quotes
Creation and Development
Edit
According to the Final Fantasy XIII Ultimania Omega, the development team at one point considered making Vanille the official main character, but dismissed the idea as they had already released a trailer and art featuring Lightning in that role.
Vanille and Fang speak with an accent different from the rest of the party. They speak in an Okinawan dialect of Japanese in the original version, and with an Australian accent in the English localization. The idea to cast two characters with Australian accents came from the localization team, who requested the voice directing team to look for either Australian- or New Zealand-sounding voices; the rationale was that the team wanted Fang and Vanille to sound like they were from another world, but more in a sense of having a different melody to their voices, rather than a thick accent.[4]
Vanille's Japanese voice actress is Yukari Fukui. Her English voice actress is Georgia van Cuylenburg. Georgia van Cuylenburg spent six months recording Vanille's dialogue; she had two recording sessions per week which lasted four hours.[5] As with the rest of the English cast of Final Fantasy XIII, Georgia van Cuylenburg was able to listen to the original Japanese dialogue, which had been recorded first, for tone reference.
While the other characters in Final Fantasy XIII were intended to be "Americanized", Georgia van Cuylenburg was asked to adhere to the original Japanese performance and use a "high, squeaky, and upbeat" voice,[5] as Vanille initially wants to misdirect the other characters with her happiness. Georgia van Cuylenburg has stated that the most difficult aspect of voicing Vanille was making a type of high-pitched moan required for the character, which was not easy to make sound natural.[5]
During the February 2014 interview with Final Fantasy Union, Georgia van Cuylenburg commented how she and Vanille are alike with their past as Georgia also had several issues and hid it under a cover of a carefree girl, and compared Vanille's breakdown in the scene with Sazh to the similar situation from years before recording Vanille to when she lost her hair, which helped her in relating to her voiced character and enhance her performance.[6]
Musical Themes
Edit
Final Fantasy XIIIEdit
"I created 'Vanille's Theme' to match a sad scene, but when the character and her scenes were revealed, I found that the sad piece didn't complement her any more, and an earnest and bright piece to fit the character's mindset popped into my mind."
—Masashi Hamauzu; liner notes to Final Fantasy XIII: Original Soundtrack.
"Vanille's Theme" is composed of solo piano, and represents her cheerful nature and inner guilt. "Prelude to Final Fantasy XIII" recurs as a motif within "Vanille's Theme", which is intended to reflect her role as the game's narrator and originator of the story.[7]
Variants of her theme include three orchestral arrangements called "Lost Hope", "Eidolons on Parade", and "Memories of Happier Days". The third variant "Memories of Happier Days", begins with solo piano like her original theme, but turns into a melancholy but uplifting orchestral piece. A short reprise of her theme is heard in "Face It Later", "Sulyya Springs", and at the beginning of "The Road Home". An orchestral motif of her theme is heard in "Nascent Requiem", the final battle theme.
"The Captive Saint" contains a revised version of "Memories of Happier Days", and plays when Lightning reunites with Vanille. "Memories of Happier Days" plays when Lightning reunites with Mog in the Wildlands, and when Lightning completes Bhakti's quest, "The Life of a Machine" in the Dead Dunes. It is mixed into the end credits theme, "Credits ~Light Eternal~". Vanille's leitmotif is also reprised in "A New World", which plays as the Soulsong is thwarted and Vanille and Fang guide the dead to the Ark.
Arrangement Album appearances
Edit
"Vanille's Theme" is part of the "Vanille's Theme ~ Memories of Happier Days ~ The Road Home" track on the album. It is the sixth track on the album.
Other Appearances
Edit
Vanille appears as an unlockable character, and is unlocked by collecting Silver Crystal Shards.
She is a Support oriented character.
Abilities
Edit
Vanille appears in Pictlogica Final Fantasy as a playable character. Her initial weapon is the Guard Stick.
Vanille is an ally and a summonable Legend in Final Fantasy Airborne Brigade.
Vanille appears in Final Fantasy Record Keeper.

Many cards depicting Vanille in the Final Fantasy Trading Card Game. One of them is a close-up of Vanille's face, and another displays her Final Fantasy XIII render. A card for Hecatoncheir in Gestalt Mode also exists, with Vanille riding atop it. Another card displays Vanille's render from Lightning Returns. The cards are earth-elemental.
Non-Final Fantasy AppearancesEdit
Vanille appears as a selectable avatar in Kingdom Hearts Mobile. She and Sazh are currently the only characters from Final Fantasy XIII to appear in the game.

For more information, see Kingdom Hearts Wiki: Avatar Menu
Vanille appears as an avatar in the Nintendo DS Kingdom Hearts Re:coded game, along with Serah, Snow, Sazh and Lightning.
Merchandise
Edit
Action figures of Vanille have been released as part of the Play Arts series.
Etymology and Symbolism
Edit
Vanille is French for "vanilla", a type of spice used as flavoring for various sweet foods. Dia is Spanish and Portuguese for "day", which may allude to her bright personality.
The Japanese pronunciation of Dia, with a long "i" sound, is also a common Japanese abbreviation for "diamond", possibly alluding to Hecatoncheir being an Earth-elemental summon.
The characters of Fang and Vanille are based on the Ragnarok myth of Líf ("life") and Lífþrasir ("eager for life") — the only humans who will survive Ragnarok. They sleep through earth's destruction and upon awakening will find the earth verdant again. Líf and Lífþrasir will become the progenitors of a new race of humans, and their descendants will inhabit the world. This is congruent with the idea that Fang was originally envisioned as a male character.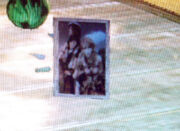 Vanille's eidolith is used for the "Instrument of Faith" trophy/achievement.
Vanille shares her Japanese voice actress with Terra Branford from Dissidia Final Fantasy and Dissidia 012 Final Fantasy.
Vanille shares her clan name with the spell Dia from Final Fantasy and Final Fantasy XI. However, the Japanese pronunciation of her clan name is different.
A photo of Vanille and Fang can be found in Oerba, proof of their past existence.
While her fellow comrades are branded on the upper half of their bodies, Vanille's brand is located on the lower half of her body.
Final Fantasy XIII includes a nude character model for Vanille, for the scene where she comes out of crystal stasis.[8]
In Episode Zero -Promise-, Fang mentions that Vanille loves cooking and making up her own meals, though they are not always good.
Vanille is seen in a cutscene from the intro to the title-screen of Final Fantasy XIII, but the scene is never shown in the actual game.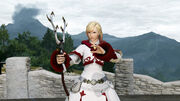 References
Edit