Octomammoth (Final Fantasy IV)
Talk

7
16,420 pages on
this wiki
Octomamm
オクトマンモス (Okutomanmosu?)
Statistics
Level
HP
MP
10
2,350
146
Attack
Magic
22
0
Defense
Mag Def
Mag Def%
0
25
0
Agil.
Attack%
Defense%
?
?
0
EXP
GP
1,200
500
Octomamoth
オクトマンモス (Okutomanmosu?)
Statistics
Level
HP
MP
10
2,350
146
Attack
Magic
22
0
Defense
Mag Def
Mag Def%
0
25
0
Agil.
Attack%
Defense%
?
?
0
EXP
Gil
1,200
500
Octomamm
オクトマンモス (Okutomanmosu?)
Statistics
Level
HP
MP
10
2,350
146
Attack
Magic
22
0
Defense
Mag Def
Mag Def%
0
25
0
Agil.
Attack%
Defense%
?
?
0
EXP
Gil
1,200
500
Octomammoth
オクトマンモス (Okutomanmosu?)
Statistics
Level
HP
MP
10
2,350
146
Strength
Magic
22
0
Defense
Mag. Def.
Mag. Eva.
0
25
0
Agility
Precision
Evasion
?
?
0
EXP
Gil
1,200
500
Octomammoth
オクトマンモス (Okutomanmosu?)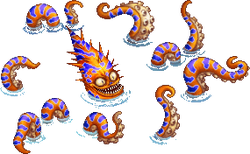 Statistics
Level
HP
MP
10
2,350
146
Strength
Magic
22
0
Defense
Mag. Def.
Mag. Eva.
0
25
0
Speed
Accuracy
Evasion
?
?
0
EXP
Gil
1,200
500
Octomammoth
オクトマンモス (Okutomanmosu?)
Statistics
Level
HP
N/A
3,350
EXP
Gil
10,050
1,000
Strength
Stamina
Speed
16
14
24
Intellect
Spirit
Attack
Accuracy
8
14
14
115
Evasion
Defense
Mag. Def.
Mag. Eva.
0
28
44
15
Statuses and immunities
Immune
Immune
Immune
Immune
Immune
Death
Immune
Immune
Immune
Immune
Immune
Critical
Immune
Immune
Immune
Immune
Immune
Libra/Analyze
-
-
-
-

The Octomammoth, also known as Octomamm or Octomamoth, is a boss from Final Fantasy IV. It blocks travelers using the Underground Waterway to reach Damcyan. Tellah has trouble defeating it, and recruits Cecil and Rydia to do it.
The Octomammoth was once an ordinary octopus that was mutated by unspecified "underwater experiments." Tellah comments that it is "an octomammoth," indicating it is not the only mutation of its type. Though no others appear in the game or its sequel, Final Fantasy IV: The After Years, two similar monsters appear, Octo-Kraken and Cooler Mammoth. Palom mentions that the Cooler Mammoth once gave Tellah trouble, indicating it may be the same creature.
2D version
Edit
Octomammoth is weak and only uses physical attacks. Cecil should attack while Tellah and Rydia cast Thunder.
3D version
Edit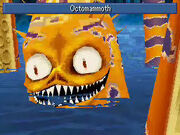 The Octomammoth can be rough if the player has not been battling along the way. Cecil should have collected the Shadowblade and some Hades-type armor and use Darkness, then use physical attacks with Darkness status. Tellah and Rydia should use Thunder, and occasionally, if they have enough MP, summon Chocobo with Rydia. The party should heal with Cure or, hopefully, Cura when Cecil and the others get weak. After losing a percentage of HP, the beast's tentacles will vanish, and when it has about four left, Tellah will warn that a wounded beast is dangerous. Afterward the Octomammoth will slow down, but deliver massive hits that could possibly defeat Tellah or Rydia in one hit, and leave Cecil weak.
Other Appearances
Edit
Octomammoth appears as an enemy in Final Fantasy Record Keeper.

Related Enemies
Edit