Ochu (Final Fantasy XIII-2)
Talk

0
13,966 pages on
this wiki
Cid

: Oh, shut up and help me remodel the Ochu (Final Fantasy XIII-2) page!
Please expand this article into a full one. More details can be found, and this request can be discussed, on the associated

discussion page

.
See also: Ochu.
Final Fantasy XIII-2 Enemy
Ochu
オチュー (Ochū)

Statistics
HP
317,200
587
685
444%
90
Keep
Launch
Libra
40
Resistant
30
CP
Gil
1,600
2,880

Vulnerabilities
Weakness
Absorbed
-
-
-
-

Status resistance
70%
70%
50%
Immune
50%
30%
Immune
Immune
-
-
30%
-
-
-
50%

Location
The Archylte Steppe -Year Unknown-
Type
Feral Creature
Subtype
Ochu
Recruit Chance
Untameable
Common Drop
Grasitha (10%)
Rare Drop
Gandiva (5%)
Abilities
Seed Dispersal, Pollen, Screech
Notes
- Calls allies.
- Capable of inflicting Debrave.
- Capable of restoring HP.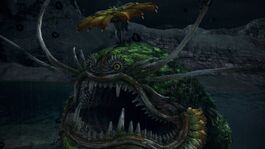 The Ochu is an enemy in Final Fantasy XIII-2.
See also: Fragment/Monster Bits.

Ochus are wild plant-monsters that live on Gran Pulse. Variants include the small microchu and its close cousin the neochu, as well as the rapidly mutating chaochu.
Because the ochu and its relatives inhabit similar environments, they are fierce rivals for food and resources. On Pulse, evolution acts on populations remarkably quickly; new varieties and species emerge in a matter of years. That said, however, the ochu and neochu have been in competition for much longer.
Although it has lower stats than its counterpart in Final Fantasy XIII, the strategy to beat it is similar. The player should start off with a defensive paradigm like Protection (MED/SYN/SEN) and get up some enhancements. Thereafter, the Ochu should be the main priority since it will summon Microchu if their numbers go low. The vulnerability against fire should be used as an advantage and Relentless Assault (COM/RAV/RAV) or Tri-Disaster (RAV/RAV/RAV) should be the main paradigm. A Synergist monster with Enfire is also a good addition. Ochu deals a moderate amount of damage, so Combat Clinic (MED/MED/SEN) is probably the best shot at restoring HP, as the Sentinel will draw the Microchu and Ochu while the two Medics concentrates on healing. Once staggered the player should change to Cerberus-X, Aggresion-X or Tireless Charge-X. When it has finally been downed, the player can use Misdirection (COM/MED/MED) and take out the Microchu, but if feeling confident, Tireless Charge-W (or X, depending on the player's damage preference) can also be used.
Related Enemies
Edit