Observatory Mountain
Talk

5
13,961 pages on
this wiki
Cid

: Oh, shut up and help me remodel the Observatory Mountain page!
Please expand this article into a full one. This can be done by Adding a Locations section with images and brief descriptions of the areas within the whole location. This request can be discussed on the associated

discussion page

.
"Please go to the observatory on top of a mountain on the outskirts of the village. An old man named Morrid lives there. He takes care of the cargo ship."
—Dutiful Daughter Slai
Observatory Mountain is a location on Gaia's Mist Continent in Final Fantasy IX, located on the outskirts of the village of Dali. The mountain becomes inaccessible in Disc 4.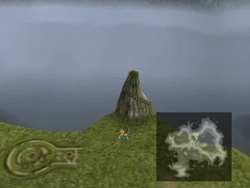 After the party arrives in Dali, Steiner immediately begins to hatch a plot to bring Princess Garnet back to Alexandria with him. After failing to locate any form of airship transportation, Steiner learns that a Cargo Ship routinely docks at Observatory Mountain.
When Steiner reaches the mountain, he meets unexpected resistance from Morrid, the elderly man and coffee aficionado who lives at the base of the mountain and presumably maintains the observatory and changes its signals. Despite Steiner's attempts to use his leverage as a the leader of the Pluto Knights, Morrid almost completely ignores his pleas to use the Cargo Ship. After clanking around for several minutes, Morrid finally tells Steiner that the Cargo Ship is, in fact, docked back in Dali.
Inside Morrid's home are two key items, including a mini-figurine. The player can bring three types of coffee to Morrid in order to receive a special prize: a miniature Prima Vista. The three types of coffee Morrid wants are Burman, Kirman, and Moccha. After the player obtains the Prima Vista item, it will be located in the Tantalus Hideout in Lindblum.
After the party returns from Terra, the observatory mountain becomes impassable due to the Iifa Tree's roots causing an earthquake as they burrowed through the ground. Upon talking to Slai in Dali, it is revealed that Morrid died in the earthquake as well.