O'aka XXIII
Talk

3
15,979 pages on
this wiki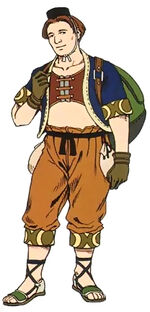 "O'aka the twenty-third, merchant extraordinaire!"
—O'aka
O'aka XXIII (23代目オオアカ屋, 23-Daime Ooaka-ya?) is a non-player character in Final Fantasy X and Final Fantasy X-2. He is a traveling merchant who sells items and equipment to the player. He is Yuna's devout supporter and has a brother called Wantz.
Appearance and Personality
Edit
O'aka has floppy red hair with a small black hat secured with string under his chin. He wears a short brown waistcoat that reveals his stomach under a blue shirt, baggy beige trousers, open sandals and gloves. He wears a pack of wares. Unlike most Spirans, O'aka speaks with a Cockney accent, like Wantz.
O'aka is at first pompous and rude, commenting on Tidus's clothes and income, but he proves himself a valuable asset later, being there when they need him and providing occasional discounts. O'aka can be sneaky, slipping past guards and security, but his motives to help Yuna and the party are close to his heart. Despite the disagreements they get into, O'aka does care for his brother Wantz. O'aka learned many of his skills, like silver-tongued negotiations and disguises, from his forebears.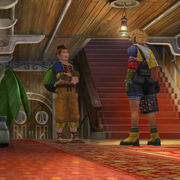 O'aka first appears in Besaid village, though Tidus does not officially make his acquaintance until sailing on either the S.S. Liki or S.S. Winno, depending on if he goes below the decks on the way to Kilika or not. When Tidus first encounters O'aka, he comments on Tidus's clothes and says he looks poor. O'aka introduces himself as a merchant and appears in many locations afterward, including Luca and Mushroom Rock during Operation Mi'ihen, where he snuck past the guards.
O'aka finds his way to the Moonflow, and later to Lake Macalania. He uses a sphere before escaping from guards after the party kills Seymour Guado and his accomplice guards. He is again seen in Bevelle before the party fights Seymour for the second time. When the party runs into his brother, Wantz, on Mt. Gagazet, he reveals O'aka has been captured by Yevon for conspiracy — namely for supplying goods to Yuna and her party with knowledge of Maester Seymour's recent death.
O'aka escapes and returns to Luca, pledging to leave the merchant life. When the player runs into him at the theater entrance, O'aka mentions his sister dying during her duties as summoner. It is in this conversation where he reveals his motivation in helping Yuna, whom he feels looks a lot like his sister.
After Yuna and her guardians felled Sin O'aka bought the Lake Macalania travel agency from Rin. When the temple sank to the bottom of the lake, O'aka found himself with few customers to sell to and in debt to the Al Bhed. Helping O'aka by stowing him away aboard the Celsius, the Gullwings buy his merchandise so he can pay his debts. Once solvent, O'aka returns to the agency and finds his debt collectors killed off by the fiends stirring from the sunken Macalania Temple. Adamant to honor the debt collectors as he would never be able to pay them, O'aka remains in the travel agency and offers accessories for affordable prices to travelers. O'aka later reconciles with Wantz and takes him in as his assistant.
If the Gullwings turn O'aka in to the Al Bhed, he will work his debt off in the Bikanel Desert. Yuna can talk to O'aka on the CommSphere, and spot him in the hot springs area in Mt. Gagazet in a CommSphere event. In a Fiend Tale scenario, O'aka encounters an Elder Zurvan whom his great-grandfather stole a treasure sphere from and outwits the Imp as his grandfather and father had done in similar confrontations.
O'aka is mentioned to have started a new business with Cid at Mt. Gagazet's hot springs, though it is not a successful venture for either.
Final Fantasy XEdit
At O'aka's first four locations, the player has the opportunity to donate him gil to start up his business.
The amount of money the player gives O'aka determines the prices in his shops in the following manner:
0 - 100 gil → all items/weapons will get 100% increase in prices.
101 - 1000 gil → all items/weapons will get 50% increase in prices.
1001 - 10000 → all items/weapons will get 20% increase in prices.
10001+ → items/weapons will get 30% discount on all prices.
The player can also affect O'aka's prices at the Macalania Woods -— Lake Road location, where, if the player enters and then immediately leaves the buying menu without purchasing anything, O'aka asks the player to judge his pricing level. Replying that they are too expensive drops prices by 25%.
The last chance for the player to give money to O'aka is in the Mi'ihen Old Road. Once the player enters the Mushroom Rock Road they will never be able to give more money to O'aka.
The player can't buy anything, but they can give O'aka money.
O'aka is found on the Old Road.
NB: at this point, O'aka's pricing depends on how much gil the player donated to him earlier in the game. The tables below indicate his prices at 100%.
Operation Mi'ihen HQ
Edit
O'aka can be found in both north and south banks of the river. He only sells equipment on the south bank.
| Equipment | User | Cost |
| --- | --- | --- |
| Double-Edge | Tidus | 2,175 gil |
| Belladonna Wand | Yuna | 3,075 gil |
| Blind Pass | Wakka | 3,075 gil |
| Fatal Cait Sith | Lulu | 12,825 gil |
| Shimmering Blade | Auron | 1,650 gil |
| Devastator | Rikku | 1,650 gil |
| Yellow Shield | Tidus | 2,325 gil |
| Yellow Ring | Yuna | 2,325 gil |
| Yellow Armguard | Wakka | 2,325 gil |
| Yellow Bangle | Lulu | 2,325 gil |
| Yellow Armlet | Kimahri | 2,325 gil |
| Yellow Bracer | Auron | 2,325 gil |
| Yellow Targe | Rikku | 2,325 gil |
After entering and exiting his shop, O'aka will ask what the player thinks of his prices. If the player says they are too high, he will lower his prices by 25%.
Final Fantasy X-2Edit
O'aka's debt changes based on the game mode. If playing New Game, his debt will be 100,000 gil. In New Game Plus, however, it has been reduced to 1,000 gil. He will remain on the airship until Chapter 3, even if his debt has been paid off. His prices will be greatly reduced to the point where the player can buy cheap items from him and sell them to Barkeep for a profit. Paying off his debts will unlock the "Millionaire" trophy in Final Fantasy X-2 HD Remaster.
Travel Agency
Edit
This shop is only available after obtaining an Episode Complete at the Travel Agency during Chapter 5.
| Item | Cost |
| --- | --- |
| Faerie Earrings | 10,000 |
| Kinesis Badge | 10,000 |
| Safety Bit | 10,000 |
| Sword Lore | 50,000 |
| Bushido Lore | 50,000 |
| Arcane Lore | 50,000 |
| Nature's Lore | 50,000 |
| Black Lore | 50,000 |
| White Lore | 50,000 |
| Crimson Ring | 10,000 |
| Snow Ring | 10,000 |
| Ochre Ring | 10,000 |
| Cerulean Ring | 10,000 |