Ad blocker interference detected!
Wikia is a free-to-use site that makes money from advertising. We have a modified experience for viewers using ad blockers

Wikia is not accessible if you've made further modifications. Remove the custom ad blocker rule(s) and the page will load as expected.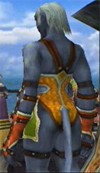 Nuvy Ronso is a blitzball player for the Ronso Fangs. She is a solid defender throughout the game, and is a good option at either defense spots for most of the stages of Blitzball. Her major negative is her speed, like most other Ronso.
Blitzball stats
Edit
Location
Luca Harbor, Number 4 Dock
Key Techniques
Tackle Slip
Venom Tackle
Volley Shot
| LV | 1 | 5 | 10 | 15 | 20 | 25 | 30 | 35 | 40 | 45 | 50 | 60 | 70 | 80 | 90 | 99 |
| --- | --- | --- | --- | --- | --- | --- | --- | --- | --- | --- | --- | --- | --- | --- | --- | --- |
| HP | 214 | 472 | 788 | 1,098 | 1,402 | 1,700 | 1,992 | 2,278 | 2,558 | 2,832 | 3,100 | 3,618 | 4,112 | 4,582 | 5,028 | 5,408 |
| SP | 40 | 40 | 40 | 40 | 40 | 40 | 40 | 41 | 41 | 41 | 41 | 41 | 42 | 42 | 42 | 42 |
| EN | 11 | 12 | 13 | 15 | 17 | 19 | 21 | 24 | 27 | 30 | 33 | 41 | 49 | 59 | 69 | 79 |
| AT | 12 | 13 | 14 | 15 | 17 | 18 | 20 | 22 | 24 | 27 | 29 | 35 | 41 | 47 | 55 | 62 |
| PA | 7 | 9 | 12 | 15 | 17 | 20 | 24 | 27 | 30 | 34 | 37 | 45 | 53 | 61 | 70 | 79 |
| BL | 4 | 6 | 8 | 11 | 13 | 15 | 18 | 20 | 22 | 24 | 26 | 30 | 34 | 37 | 40 | 43 |
| SH | 1 | 1 | 1 | 2 | 2 | 3 | 4 | 4 | 5 | 6 | 7 | 8 | 10 | 12 | 14 | 16 |
| CA | 1 | 1 | 1 | 2 | 3 | 3 | 4 | 5 | 5 | 6 | 7 | 9 | 11 | 13 | 16 | 18 |