Ad blocker interference detected!
Wikia is a free-to-use site that makes money from advertising. We have a modified experience for viewers using ad blockers

Wikia is not accessible if you've made further modifications. Remove the custom ad blocker rule(s) and the page will load as expected.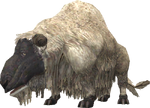 Nursery Nazuna is a powerful sheep in Final Fantasy XI that can be called by a Beastmaster using a jug of Dancing Herbal Broth.
Level Range

76-80

Damage Type

Slashing

Hit Points

~4560 (Level 80)
Lamb Chop: Single target physical damage (1 Charge)
Rage: Enhances pet's attack (+50%) but weakens defense (-50%) (2 Charges)
Sheep Charge: Single target physical damage + Knockback (1 Charge)
Sheep Song: Area of Effect sleep (2 Charges)