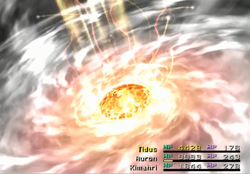 Nova (サンシャイン, Sanshain?, lit. Sunshine) is a recurring ability in the series. It is a Blue Magic spell which inflicts heavy non-elemental damage to all enemies.
Appearances
Edit
X Nova deals massive non-elemental damage. It can be learned by Kimahri as a Ronso Rage Overdrive by using Lancet on the Omega Weapon in the Omega Ruins or Nemesis in Monster Arena. If Nova lands a critical hit, it is the most powerful attack in the game, although due to dealing only a single hit its power is dampened by the damage limit.
Etymology
Edit
[view · edit · purge]Nova means "new" in Latin. A nova is a cataclysmic nuclear explosion caused by the accretion of hydrogen onto the surface of a white dwarf star. Supernovae are extremely luminous and cause a burst of radiation that often briefly outshines an entire galaxy, before fading from view over several weeks or months. During the 16th century, astronomer Tycho Brahe observed the supernova SN 1572 in the constellation Cassiopeia, describing it in his book De stella nova (Latin for "concerning the new star"), giving rise to the name nova.