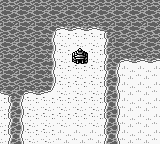 North Maze (フェンリルの迷宮, Fenriru no Meikyuu?) is a location in Final Fantasy Legend III.
Arthur uses the Catnip and the aroma fill the place, putting the BlackCats to sleep. Arthur navigates through the maze and eventually find Fenrir. After Fenrir's defeat, Arthur rescues Faye from imprisonment and she joins the party.
Soar
BlackCats
Keeper
Typhoon
Hermit
Samurai
Merman
Fenrir (Boss)
The entire dungeon is in the shape of a cat's face.