Nora Estheim
Talk

17
13,963 pages on
this wiki
"Moms are tough."
—Nora
Nora Estheim (ノラ・エストハイム, Nora Esutohaimu?) is a minor character in Final Fantasy XIII. She is Hope's mother and the wife of Bartholomew Estheim. She is voiced by Komina Matsushita in the Japanese version, and Mary Elizabeth McGlynn in the English version. Nora was designed by Nao Ikeda.
See also: Datalog/People.
Nora is Hope's mother.
Worried about the worsening relationship between her son and his father, Nora wonders how to break down the barriers Hope has created. Wanting to protect her boy from the horrors of the Purge, she volunteers to join the battle, but is killed during the chaotic conflict.
Nora begs Snow to get Hope home, but the NORA leader never hears the boy's name before she slips from his grasp.
Appearance and Personality
Edit
"Don't worry."
—Nora's last words to Hope
Nora has green eyes and shoulder-length silvery-blonde hair similar to Hope's. She is 163 cm tall (5'3") according to the Ultimania guide. She wears a simple brown necklace under an ivory wraparound sweater with off-shoulder sleeves and a hood-like neck. Nora also wears cream capris and brown wedge sandals.
Nora cares for both her son and husband, but shows concern towards their relationship growing ever more distant. She also has a subtle sense of humor, as shown in one of Hope's flashbacks. Nora is best defined by her protectiveness towards Hope, to the extent of engaging in conflict and risking her life to ensure his safety.
"Who are you calling 'kid'?"
—Nora to Hope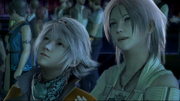 Nora and Hope take a vacation together in the seaside town of Bodhum to see the annual fireworks show; her husband Bartholomew is due to join them, but calls at the last minute to cancel, due to being too busy with work from the Sanctum. Three days before the show, Nora and Hope visit Euride Gorge. With the large amount of security and circulating buzz about the incident at Euride three days prior, they return to Bodhum in slightly lesser spirits.
That night, Nora makes a wish on the fireworks, and asks Hope if he is also making a wish, though he laughs at her sentiment. When Hope asks Nora what she wished for, she tells him that she wished for his father to come with them next year. This angers Hope, causing him to pull away from Nora and say that they are better off without his father there.
Unbeknownst to both of them, nearby in the town, PSICOM discover the Pulse fal'Cie, Anima, within the Bodhum Vestige. The next day, both Hope and Nora are caught within the subsequent quarantine, unable to return to home to Palumpolum. In line for the Purge train in Bodhum Station, Nora frantically begs that Hope be allowed to go back home, willing to stay behind and be Purged herself. However, her pleas fall on deaf ears, and they are forced upon the Purge train, alongside a young woman they befriended on the platform named Vanille.
"I told you, didn't I? Moms are tough."
—Nora to Snow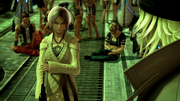 After entering the Hanging Edge, Lightning and Sazh Katzroy derail their train, and they are among the group found by Snow Villiers and NORA. Wishing to protect Hope, Nora is among those who volunteer to fight with Snow against PSICOM, telling Hope not to worry as he stays behind with Vanille. Before leaving with Snow and the other volunteers, Nora takes one last look at Hope and gives him a nod to reassure him.
During the battle, Snow tries to grab hold of a bazooka and take down an attacking Sanctum Skytank but loses it. Before the Skytank can fire at Snow, Nora takes the bazooka and shoots it down, saving his life. However, as the Skytank goes down, its main cannon fires a shot behind Nora, causing an explosion that destroys the motorway, mortally wounding her in the process.
As Snow is dragging her back, the destroyed motorway tilts. Just before they slide off, he grabs Nora's hand and the edge of the motorway, attempting to hang on. In her last moments, Nora begs Snow to get Hope home but is too weak to reveal his identity to him. Then she succumbs to her wounds and dies. Snow attempts to hold onto Nora as she dangles lifelessly, but he loses his grip on her hand and she plummets down, with Vanille and Hope watching from afar.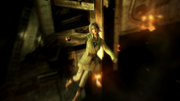 With Hope blaming Snow for what happened, Nora's death serves as the catalyst for Hope to accompany Vanille and follow Snow into the Pulse Vestige, and be branded a l'Cie as the result. Hope eventually chooses to join Lightning in her vendetta against the Sanctum to get revenge against Snow, naming his plan after his late mother, in the form of "Operation Nora".
Running through Palumpolum with Snow and stopping to rest at the Rivera Towers, Nora appears in a flashback from Hope's childhood, pushing him to finally confront Snow and nearly kill him. It is after when Snow apologizes for putting Nora in danger, and Hope realizes he pursued revenge for the wrong reasons that Hope puts Nora's death behind him and ends Operation Nora.
Other Appearances
Edit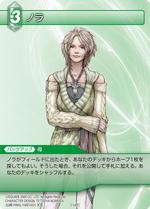 Nora appears in Trading Card Game in her sketch made by Nao Ikeda.