Series appearances
Edit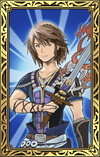 Noel appeared as a recruitable character. He was of the Visitor race and had Shadow Hunter as his main job. His attack was Volatile Spark and his ability was Meteor Javelin.

A young man from 700 years in the future and the last survivor of humanity. A frail thread of hope propels him onward across time, believing that he and Serah will be able to change the fate of the world...
—CollectaCard
Noel is unlocked by collecting Purple Crystal Shards.
He is an Offense and Defense oriented character.

This article or section is a stub about a character in Theatrhythm Final Fantasy All-Star Carnival. You can help the Final Fantasy Wiki by expanding it.
Noel appears as a playable character. His initial weapon is the Hunting Sword.
Noel appears as a summonable Legend. He is depicted in his default Final Fantasy XIII-2 outfit. He is first introduced in the event, Final Fantasy XIII-2 Incursion from Valhalla, in which his abilities and weapons are made usable to successfully combat Atlas and Chaos Bahamut. In the Japanese version the player can access him by purchasing the correct issue of Mobage.
Ability Cards
Legend Cards

Noel is a playable character who could be initially recruited during the Challenge Event Time's Arrow as a First Time Reward for completing the event's Taejin's Tower - Cie'th Stone stage in Part 1.

Noel's attire appears as a costume for Wol.
Noel appears on Lightning-elemental cards, but some are of the Fire element.