Noel Kreiss
19,943 pages on
this wiki
Talk

63
Noel Kreiss is a playable character and the deuteragonist of Final Fantasy XIII-2, and a supporting character in Lightning Returns: Final Fantasy XIII.
In Final Fantasy XIII-2, Noel is the last remaining human from 700 AF and has traveled back in time to change his fate. After meeting Lightning in Valhalla, he accompanies her sister Serah Farron on her quest to reunite with Lightning and change the future.
In Lightning Returns: Final Fantasy XIII, Noel is called the "Shadow Hunter", and acts as an adversary for Lightning as she fights to save the souls of humanity before the end of the world.
Appearance
Edit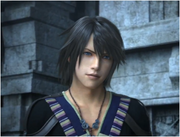 Noel is an 18-year-old man with shoulder-length brown hair and blue eyes. He wears a black V-neck top with tribal patterns and a print of angel wings on the back, along with a simple pendant. He wears a leather bracer on his left arm, a ring on his right hand, and wraps his right arm with cord. He wears large blue sirwal-style trousers with decorated hems, and low-cut sandal-like leather boots. A green pouch and hunter's knife are attached to his belt in the back, which is adorned with small lavender ties made of cloth. Under the angel wings on the back of Noel's top and on his dagger, there are lines of Etro script. The script on his top translates to: Seeker of Miracles at History's End — Walker of the Realm Unseen, and the text on the dagger reads: Travel the desolate wasteland in search of hope's past.
The sword Noel wields with his right hand has two blades stylized like red flames, while the sword he wields with his left hand is a simple yellow-brown blade similar to a gladius. His two-bladed sword can hold his smaller sword within the hollow metal part of the hilt. The swords combine and form a spear that also functions as a javelin. As well as the motif on his top, the silver blade in the center of Noel's red sword also has angel wings.
In Lightning Returns: Final Fantasy XIII Noel's clothing remains the same in basic design, but his trousers, bracers and overall color scheme has darkened and has more subdued colors, possibly to reflect his change in attitude. The design of his sword, now called "Shadow Hunter", has changed: it retains the same stylized flames and consists of two blades that can combine into a lance, but the color scheme is black with gray patterns across the blades and hilts. If the player waits until after Day 8 to fight Noel, he wears his Battle Attire outfit from Final Fantasy XIII-2.
Alternate outfits
Edit
Noel has five alternate outfits as part of downloadable content in Final Fantasy XIII-2: his "Battle Attire" costume was released on January 10th in Japan, February 7th in America and included with Nordic Edition of the game or as part of the pre-order bonus DLC pack—"Fight in Style"—for Europe and Australia; "Spacetime Guardian" was released in February 2012; "N7 Armor" was released in March 2012 and "Assassin's Creed" was released in April 2012. His "Black Mage" outfit was released in May 2012.
Personality
Edit
In Final Fantasy XIII-2 Noel is a cocky, cheerful, confident but soft-spoken person. He is a self-sufficient hunter and a fighter. Due to the effects of a time paradox, Noel suffers from amnesia. Coming from a future where humanity is almost extinct, he has some trouble with his speech, so he tends to speak in a straightforward manner. He is excited to explore new places and meet new people, and is defined by his determination to protect others, evident by how he is protective towards Serah despite hardly knowing her. He asserts himself to others, and remains calm and collected when facing people with provoked anger, such as the members of NORA. Noel stands by his beliefs and morals, and as a remnant from his upbringing, values life and is reluctant to hurt or kill others unless necessary. This initially makes him dislike Snow Villiers for his brash personality, and having his head in the clouds believing in self-sacrifice.
In Lightning Returns: Final Fantasy XIII Noel's attitude towards the value of life has changed. He no longer feels anyone's death adds to his already-burdened conscience, though his attitude of killing only when necessary remains in his work as a vigilante. Noel is more serious, determined, and aggressive than he was 500 years before, though he partially returns to his old self after Lightning helps him let go of his guilt.

Gameplay
Edit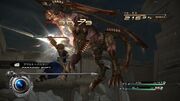 Noel begins with the Commando, Ravager, and Sentinel roles. He majors as Commando and Synergist, and is a good Medic. Noel makes a good Sentinel for his high health stat. He is not as proficient as a Saboteur and he learns only a few spells for that role. Noel's Full ATB skill is Meteor Javelin, a Commando ability that hits the enemy multiple times, but clears the chain gauge. The ability is thus best used when the enemy is about to recover from stagger.
Noel fights with two swords, which he can combine into a spear to jab enemies, and throw it like a javelin. In Noel's memories it is revealed he chose to fight with two swords because he couldn't best Caius with a single blade. Some of Noel's swords, Exploda, Rune Tooth, Sargatanas, and The Tower, are references to Zidane Tribal's Thief Swords from Final Fantasy IX.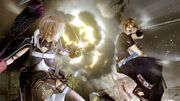 Noel is fought as a boss by Lightning during the main quest in Luxerion.
If the player waits until Day 8 or later to fight Noel, he will wear different attire, donning the Battle Attire DLC costume from Final Fantasy XIII-2 instead, and uses a new weapon, which he drops, the Endless Paradox. In this case, he will be called "Noel Kreiss+" and has increased stats.
Creation and development
Edit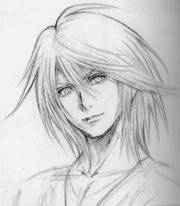 As with the other characters in Final Fantasy XIII-2, Noel's face was designed by Tetsuya Nomura, while his body and clothes were designed by Yusuke Naora. Noel was first revealed in screenshots and a teaser video from the 2011 E3 trailer of Final Fantasy XIII-2. Noel was designed as a newcomer character who knows little about Cocoon and Gran Pulse, because the developers wanted to have Noel in a similar position to a newcomer player to Final Fantasy XIII. Naora designed Noel with his profession as a hunter in mind. He gave Noel lightweight clothes and a pouch to store a hunter's knife.
Developers draw several differences between Noel and Snow. The game's director, Motomu Toriyama, describes Noel as "having a different type of chivalry from Snow", while the game's producer, Yoshinori Kitase, describes Noel as "attractive and stylish", as opposed to Snow being "the tough guy type".[2] Comparing him to Lightning, Toriyama calls Noel "a brave young man burdened by a heavy destiny—a different type of a protagonist to Lightning".[3] Yusuke Naora has said he based the colors of Noel's Flame Fossil sword, red and yellow, on those of the original nameless protagonist from Final Fantasy III in Yoshitaka Amano's artwork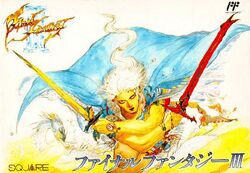 .[4]
As said by Kitase, Noel was created as a male protagonist with a similar age to Serah as a counterpoint after she was named the main female lead. Noel's appeal as a character comes from him hailing from a vastly different environment from Lightning and Serah's, therefore making him "detached from their reality and ignorant of life in Cocoon", and "a protagonist well beyond his years."[5]
When designing Serah's and Noel's weapons for Final Fantasy XIII-2, the developers wanted weapons that could be used for both close-range and long-range combat. That's why Serah has a weapon that can switch between bow and sword forms, and Noel has twin blades that can combine into a javelin.[6]

Musical themes
Edit
"Noel's Theme," composed by Naoshi Mizuta, is a prominent track in Final Fantasy XIII-2, serving as a base for the main battle theme "The Last Hunter." It has a lyrical version titled "Noel's Theme ~Last Journey~" among several arrangements, which is remixed as the darker "Noel's Theme ~The Shadow Hunter~" and briefly reprised in "Noel & Yeul ~The Promise~" in Lightning Returns: Final Fantasy XIII.

Other appearances
Edit
Noel appeared as a recruitable character in Final Fantasy Tactics S. He was of the Visitor race and had Shadow Hunter as his main job. His attack was Volatile Spark and his ability was Meteor Javelin.
Noel is unlocked by collecting Purple Crystal Shards.
He is an Offense and Defense oriented character.
Abilities
Edit
Noel appears in Pictlogica Final Fantasy as a playable character. His initial weapon is the Hunting Sword.
Noel appears as a summonable Legend in Final Fantasy Airborne Brigade. He is depicted in his default Final Fantasy XIII-2 outfit. He is first introduced in the event, Final Fantasy XIII-2 Incursion from Valhalla, in which his abilities and weapons are made usable to successfully combat Atlas and Chaos Bahamut. In the Japanese version the player can access him by purchasing the correct issue of Mobage.
Noel's attire appears as a costume for Wol.

Noel appears in the Japan-exclusive Final Fantasy trading card game published by Square Enix. Most of his cards are Lightning-elemental, but some are of the Fire element.
Final Fantasy XIII-2
Lightning Returns: Final Fantasy XIII
Etymology
Edit
[view · edit · purge]Noël is French for "Christmas", but originates, like other Latin-derived language forms for the word, from the Latin natalis, which means "birth."
[view · edit · purge]In German, Kreis means "circle." The second "s" may be added purely for pronunciation.
Noel's name may be a reference to his role in the story. In Final Fantasy XIII-2 he is given a new "life" or "birth" when he arrives in Valhalla and is granted a chance of changing the world's fate. His name juxtaposes with Yeul's, as "Yule" is another word for Christmas.
Noel, along with Caius, does not use the same format for his name like a number of other Pulsians, such as Oerba Yun Fang, Oerba Dia Vanille and Paddra Nsu-Yeul. They use the format of first having their village, then clan and personal name, but Noel uses the personal name, then family name, like people from Cocoon. The reason might be due to Noel being a descendant of Cocoon inhabitants. One of the hunters in the Archylte Steppe visited during the events of Final Fantasy XIII-2 states that the tribe was formed by a group of former citizens of Cocoon who grew tired of having to rely on the fal'Cie and machines.
His name is pronounced "Nol" instead of "No-el" like the normal English given name or "No-al" in French. In the Japanese version, however, his name is "ノエル" (Noeru/No-el).
Noel shares certain characteristics with Oerba Yun Fang, who was originally designed as a male character, in that he has a straight-forward cocky personality, has trouble remembering parts of his past, wears tribal clothing with a similar color palette, has a red double-bladed weapon that can also be used as a spear, and his full ATB skill is performed using a spear.
Noel appears on the 500th cover of Dengeki PlayStation magazine with Lightning, Serah, Noctis, Machina Kunagiri, and Rem Tokimiya, all characters from the Fabula Nova Crystallis: Final Fantasy series.
The official site of Lightning Returns: Final Fantasy XIII misspells Noel's last name as "Kreissel" for US and UK English, and French versions of the site.
World music Vol.01_LRFFXIII_ルクセリオ video contains a Luxerion's logo with Noel's silhouette.
Noel is the only permanently playable character in the Final Fantasy XIII trilogy who was never a l'Cie before or during gameplay.
After the battle against Noel in Lightning Returns: Final Fantasy XIII, the people of Luxerion will occasionally mention him fighting monsters, calling him the Blue Blaze. Noel can be found in the following locations across Luxerion under certain conditions:

Crossing the ticket barrier in North Station will result in Noel walking from North Station towards the city. This situation is available between 21:00 and 0:00.
Crossing the ticket barrier in South Station will result in Noel walking from South Station towards the Warehouse District. This situation is available between 16:00 and 19:00.
Walking by the stairs in Pilgrim's Passage will result in Noel appearing close to the Clock Tower. This situation is available between 3:00 and 6:00.

Noel's weapon, if fought on Day 8 or later in Lightning Returns: Final Fantasy XIII, is called Endless Paradox. This refers to the ending of Final Fantasy XIII-2 where Caius tells Noel to bear the "eternal paradox".
References
Edit