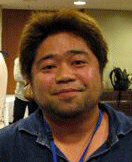 Nobuaki Komoto (河本 信昭, Komoto Nobuaki?) is a game developer that served as the director of Final Fantasy XI. Komoto was also the original director of the launch version of the original Final Fantasy XIV, but after the game's poor reception, he was dropped in favour of Naoki Yoshida. He serves as the lead game designer for Final Fantasy XIV: A Realm Reborn and its expansion, Final Fantasy XIV: Heavensward.
Works in the series
Edit
Ad blocker interference detected!
Wikia is a free-to-use site that makes money from advertising. We have a modified experience for viewers using ad blockers

Wikia is not accessible if you've made further modifications. Remove the custom ad blocker rule(s) and the page will load as expected.