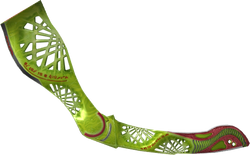 Ninurta (ニヌルタ, Ninuruta?) is a recurring weapon in the series.
Appearances
Edit
Etymology
Edit
[view · edit · purge]Ninurta in Sumerian and the Akkadian mythology of Assyria and Babylonia was the god of Lagash, identified with Ningirsu with whom he may always have been identified. In older transliteration the name is rendered Ninib and Ninip, and in early commentary he was sometimes portrayed as a solar deity. In Nippur, Ninurta was worshiped as part of a triad of deities including his father, Enlil and his mother, Ninlil. Ninurta often appears holding a bow and arrow, a sickle sword, or a mace named Sharur: Sharur is capable of speech in the Sumerian legend "Deeds and Exploits of Ninurta" and can take the form of a winged lion and may represent an archetype for the later Shedu.
Ad blocker interference detected!
Wikia is a free-to-use site that makes money from advertising. We have a modified experience for viewers using ad blockers

Wikia is not accessible if you've made further modifications. Remove the custom ad blocker rule(s) and the page will load as expected.