Ninja (Revenant Wings)
Talk

0
16,127 pages on
this wiki
Cloud

:

I couldn't finish 'em. Looks like this's gonna get complicated.

The following tables are incomplete for one or more reasons. If you wish, please examine the table and add anything missing. Remove this notice upon completion.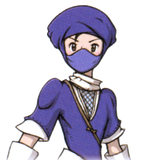 "Master assassin who walks among the shadows."
—Description
The Ninja is a Sky Pirate class from Final Fantasy XII: Revenant Wings. It is an agile Melee unit, with high Attack Speed and Speed statistics.
The Ninja's skills include a variety of sword strikes that may have an elemental affinity and inflict a status ailment.

| Skill | Effect |
| --- | --- |
| Attack | Basic - Deal melee damage to one foe. |
| Katon | Inflicts Confuse and deals Fire damage to one foe. |
| Suiton | Inflicts Silence and deals Water damage to one foe. |
| Raijin | Inflicts Slow and deals Lightning damage to one foe. |
| Doton | Inflicts Blind and deals Earth damage to one foe. |
| Dokumori | Inflicts Poison and deals damage to one foe. |
| Pain Chain | Support - Gives user a chance to deal an extra attack with each hit. |
Final Fantasy XII: Revenant Wings Enemy
Ginneo the Obeisant
{{{japan}}} ({{{romaji}}})
Level
HP
14
458
Str
Mag
Stm
Mnd
99
99
85
85
Atk
MAtk
Def
MDef
54
39
39
33
Speed
AtkSpd
MvSpd
Sight
132
64
0.834
3.5
| | |
| --- | --- |
| Location | {{{Location}}} |
| Type | Melee |
| Nature | None |
| Weak Against | None |
| Resistant to | None |
| Immune to | None |
Final Fantasy XII: Revenant Wings Enemy
Bevyn the Crafty
{{{japan}}} ({{{romaji}}})
Level
HP
32
584
Str
Mag
Stm
Mnd
199
189
157
157
Atk
MAtk
Def
MDef
109
77
93
75
Speed
AtkSpd
MvSpd
Sight
258
45
0.834
3.5
| | |
| --- | --- |
| Location | {{{Location}}} |
| Type | Melee |
| Nature | None |
| Weak Against | None |
| Resistant to | None |
| Immune to | None |
Final Fantasy XII: Revenant Wings Enemy
Fleetfooted Ninja
{{{japan}}} ({{{romaji}}})
Level
HP
29
563
Str
Mag
Stm
Mnd
184
174
145
145
Atk
MAtk
Def
MDef
106
73
90
72
Speed
AtkSpd
MvSpd
Sight
23
45
0.834
3.5
| | |
| --- | --- |
| Location | {{{Location}}} |
| Type | Melee |
| Nature | None |
| Weak Against | None |
| Resistant to | None |
| Immune to | None |
Final Fantasy XII: Revenant Wings Enemy
Stealthy Sky Pirate
{{{japan}}} ({{{romaji}}})
Level
HP
29
563
Str
Mag
Stm
Mnd
184
174
145
145
Atk
MAtk
Def
MDef
106
73
90
72
Speed
AtkSpd
MvSpd
Sight
237
45
0.834
3.5
| | |
| --- | --- |
| Location | {{{Location}}} |
| Type | Melee |
| Nature | None |
| Weak Against | None |
| Resistant to | None |
| Immune to | None |
Final Fantasy XII: Revenant Wings Enemy
Ninja
{{{japan}}} ({{{romaji}}})
Level
HP
Varies
360 - 1,053
Str
Mag
Stm
Mnd
29 - 524
39 - 534
29 - 425
29 - 425
Atk
MAtk
Def
MDef
37 - 161
24 - 148
34 - 133
25 - 124
Speed
AtkSpd
MvSpd
Sight
39 - 732
61
0.834
3.5
| | |
| --- | --- |
| Location | {{{Location}}} |
| Type | Melee |
| Nature | Varies |
| Weak Against | Varies |
| Resistant to | Varies |
| Immune to | None |