Nikeah
Talk

2
13,960 pages on
this wiki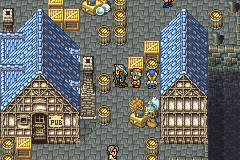 Nikeah (ニケア, Nikea?) is a town in Final Fantasy VI. It is a port city located at the north end of the Serpent Trench and the mouth of the Lethe River. As a result, it has a large marketplace, and its shops are street vendors standing among the crates of goods in the port. Ships sail regularly between Nikeah and South Figaro.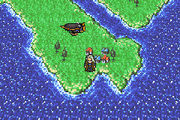 Sabin, Cyan, and Gau surface in Nikeah's ports after swimming through the Serpent Trench from Mobliz. The three then board a ship bound to South Figaro in order to get to Narshe. If the player enters Nikeah's pub a dancer will flirt with Cyan, making him disgusted. Later in the game, the player can choose to board ferries from Nikeah to South Figaro and back as they wish.
In the World of Ruin, Nikeah hasn't changed much: it still has a thriving marketplace, and runs ferries to South Figaro. Celes and Sabin come here searching for their friends and meet Gerad, a man who resembles Edgar who leads the Crimson Robbers. Gerad and the robbers eventually depart on a ferry to South Figaro with the two in pursuit.
Quests and Guides
Edit
In the Advance release, after speaking to a man in South Figaro near the Chocobo Stable who mentions seeing a shadow while fishing, boarding the ferry in either direction will cause Leviathan to attack the ship once the party has acquired the Falcon. Defeating him earns the party the Leviathan magicite.

Monster Formations
Edit
For monsters encountered in the World of Ruin, see Serpent Trench.
World of Balance
Edit
Plains
"Kids Run Through the City" is Nikeah's background theme.

Etymology
Edit
Nikeah is probably based on Nicaea ([Template fetch failed for http://community.wikia.com/wiki/Template:Greek_language?action=render] Νίκαια, Níkaia, post-classical Níkea). It was the original Greek settlement name for what are now the modern cities of İznik, Turkey and Nice, France.