Nightmare (Ability)
Talk

4
16,129 pages on
this wiki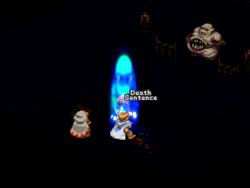 "On the verge of death... Nightmare!"
—Upon casting in Final Fantasy Tactics.
Nightmare is a recurring ability in the Final Fantasy series, having most commonly appeared in games taking place in Ivalice. It causes Sleep with 100% accuracy, and may also induce Doom.
Appearances
Edit
Nightmare is one of the abilities usable by Vincent during his Limit Break Hellmasker. Nightmare inflicts Sleep, Poison, Confuse, Silence, Frog, and Small to one enemy.
Nightmare is the ability of Diabolos, which inflicts non-elemental damage to one target and has a chance to inflict Sleep.
Cúchulainn and Zalera can use this ability. This attack inflicts Sleep or Doom (randomly decided) with a 100% success rate. See also enemy abilities.
Nightmare is an ability of the Assassin class, learned from the Kikuichimonji for 300 AP and costs 18 MP to use. It can inflict both Sleep and/or Doom on one target.
Nightmare returns as an ability learned yet again by the Assassin class for 300 AP from the Kikuichimonji, costing 8 MP to cast and requiring the user to be next to the target.