New Yevon
Talk

0
13,961 pages on
this wiki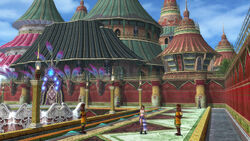 "The world is changing, and there many who are finding it difficult to keep up. New Yevon wishes to help those who feel lost in the winds of change."
—Baralai, Praetor of New Yevon
New Yevon is a political organization in Final Fantasy X-2. Trema, a former Yevon monk, formed the party from the shattered remains of the Yevon religion a year after Sin's defeat. When the people of Spira began their new lives without fear after the start of the Eternal Calm, many felt the world was moving along too fast for them; so Trema founded New Yevon with the intent of keeping the moral teachings of the old faith, but would gradually introduce new ways of thinking. The group is based out of the city of Bevelle, and their motto is "One thing at a time".
In the year between Sin's defeat and New Yevon's formation, Trema headed a group of Sphere Hunters known as The Seeker who ushered in the sphere hunting craze that swept Spira by the time New Yevon was officially formed.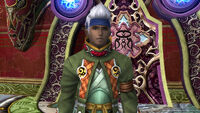 There have been three leaders of New Yevon in the two years since Sin's fall: Trema, who disappeared shortly after founding the group; an unnamed chairman, who was asked to resign when his practices steered the group in an undesirable direction; and Baralai, the current leader, or "Praetor".
New Yevon has come into contention with the Youth League, chiefly because the latter suspect Bevelle of continuing the furtive practices of the Yevon temples before them, especially keeping secrets from the people of Spira. It is revealed that they are keeping at least one secret hidden: the existence of Vegnagun. In the aftermath of Final Fantasy X-2, Baralai attempts to disband New Yevon for the good of Spira.
Musical Themes
Edit
Theme theme of New Yevon is called "New Yevon Party" (新エボン党, Shin Ebon Tou?) and it plays as the background music to Bevelle.

New Yevon's leader title, Praetor, come from Latin word of the same name which in English means "governor", "leader", "commander-in-chief".
Before the events of the game, and during Eternal Calm, Yuna was asked to marry the chairman's son, but she refused.