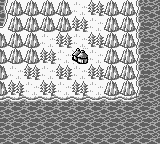 New Dharm (新ダーム, Shin Daamu?) is a location in Final Fantasy Legend III.
New Dharm is under the second tomb from the top and right. The old town of Dharm was lost, and this underground town now serves as its new town. Arthur also learns that the Elder has already pass away. Myron is now in charge of the town and Lara defends the town against monsters. Myron tells Arthur to go to Viper City and help Dion.
Password
Ad blocker interference detected!
Wikia is a free-to-use site that makes money from advertising. We have a modified experience for viewers using ad blockers

Wikia is not accessible if you've made further modifications. Remove the custom ad blocker rule(s) and the page will load as expected.