Nero tol Scaeva (ネロ・トル・スカエウァ, Nero toru Sukaewa?), is an antagonist from Final Fantasy XIV: A Realm Reborn, and a Tribunus Laticalvius in the XIVth Imperial Legion of the Garlean Empire.
Appearance
Edit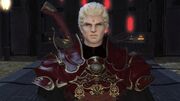 Nero is a blond man in maroon armor with a dragon-like helmet. He uses a gunhammer called Mjolnir as his primary weapon, but also wields a gunblade. Unlike the other Tribunes, Nero prefers to not wear his helmet unless when he's attending formal events or is in the thick of combat. He also seen out of his military garb in a later scene, wearing "outlandish" traveling gear and a trench coat, while investigating the Crystal Tower.
Personality
Edit
While he can put on a polite, cultured air for superiors and soldiers alike, he is a coldblooded leader who shows little mercy to his subordinates for even the smallest infractions. A schemer and a social climber, Nero resents Cid for outdoing him in magitek engineering and for being Gaius's former favored subordinate, whose shadow Nero feels he can never escape. When Cid betrayed the Garlean Empire, he felt that he would finally have his chance to outshine him. To his dismay, however, he found that Cid's betrayal only elevated his legendary status in the minds of the Garlean people.
Nero is fought as part of the final sequence of bosses in the Praetorium. Wielding his gunhammer Mjolnir Nero can attack with powerful crushing blows and gunshots as well as summon torrents of lightning. As the battle progresses he can summon Magitek Deathclaws and Magitek Colossi to aid him in battle.
Musical themes
Edit
The theme "Steel Reason" plays in all the battles against Nero and the other Tribunes. It was composed by Nobuo Uematsu.

Other appearances
Edit
Nero appears with a lightning-elemental card bearing his official render.

Nero appears on a card in the version available via Final Fantasy Portal App.

Etymology
Edit
[view · edit · purge]Nero is derived from the Sabine word meaning "vigorous" or "strong" that was later integrated into Latin meaning "black". The most famous use of this name was the Roman Emperor Nero in the first century AD.
His last name is likely drawn from Marcus Cassius Scaeva, a centurion in Julius Caesar's army at the Battle of Dyrrhachium, and later one of Caesar's partisans. Marcus was also known for dressing in red armor.