Needle Kiss (Final Fantasy VII)
Talk

0
13,964 pages on
this wiki
Final Fantasy VII Enemy
Needle Kiss
ニードルキッス (Nīdoru Kissu)

?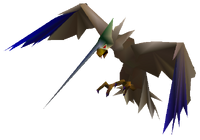 Statistics
Level
HP
MP
17
180
40
Attack
Magic
Defense
26
25
38
M. Defense
Dexterity
Evade
60
47
1
EXP
AP
Gil
75
8
130
Needle Kiss is an enemy in Final Fantasy VII. It is fought on the world map near North Corel, in Mt. Corel and in the second round of the Battle Square during the time Tiny Bronco is available. When fought in the Battle Square its stats are enhanced with double the regular HP and its Attack and Magic Attack are increased by 25%.
Needle Kiss possesses the fairly powerful Thunder Kiss ability, and so the player should be wary. The damage can be lessened by linking the Elemental Materia with Lightning Materia in a character's armor, if the player obtained Elemental from Mayor Domino earlier. Needle Kiss drops powerful Bolt Plumes and Softs can be stolen from it, making it potentially a useful enemy to fight.
AI Script
Edit
AI: Setup {
SpclChance = 8
} AI: Main {
If (Rnd(1..SpclChance) == 1) Then
{

Choose Random Opponent without Petrify Status
Use Thunder Kiss on Target

} Else {

Choose Random Opponent without Petrify Status
Use <Chute Attack> on Target
If (Rnd(1..SpclChance) == 1) Then
{

Choose Random Opponent without Petrify Status
Use <Chute Attack> on Target

}

}
} AI: Counter - General {
If (Needle Kiss's HP <= 25% of Needle Kiss's Max HP) Then
{

SpclChance = 2

} Else If (Needle Kiss's HP <= 50% of Needle Kiss's Max HP) Then {

SpclChance = 4

} Else If (Needle Kiss's HP <= 75% of Needle Kiss's Max HP) Then {

SpclChance = 6

} Else {

SpclChance = 8

}
}
Related Enemies
Edit