Necron
Talk

84
16,958 pages on
this wiki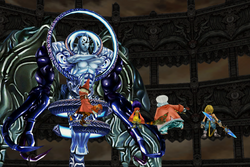 You stand before the final dimension, and I am the darkness of eternity...
—Necron
Necron (永遠の闇, Eien no Yami?, lit. Eternal Darkness) is the final boss of Final Fantasy IX, appearing in the area Hill of Despair and represents death itself. Necron's ultimate goal is to reduce everything to nothingness. Its appearance is somewhat of a mystery, as it arrives unexpectedly at the end of the game and its character is never fully explained.
Main article: Necron (Boss)
Necron is fought at the Hill of Despair as the game's final boss. Players get to choose four of the player characters to fight it, as well as check for their equipment and ability settings. The player doesn't need to bring Zidane.
Musical Themes
Edit
Main article: The Final Battle (Final Fantasy IX)
The theme that plays during the fight with Necron is called "The Final Battle", alternatively titled "Grand Cross" by the Black Mages on their third album, after the ability of the same name.
The piece was composed by Nobuo Uematsu.

Other Appearances
Edit
Necron appears as an enemy.

Etymology
Edit
[view  · edit  · purge]"Necron" is related to the Greek word νεκρός (nekrós) which simply means "dead". νεκρόν (Necron with the intonation at the "o") is the neuter form of the adjective, possibly meaning that Necron is neither male or female. It could also be a substantive form of the adjective, thus meaning "the death".
In other-language versions, Necron is known as "Tiniebla Eterna" (Spanish, lit. "Eternal Darkness"), "Ewiges Dunkel" (German, lit. "Eternal Dark"), "Trivia" (Italian), and "Darkness" (French).