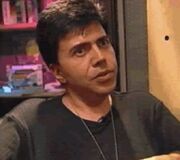 Nasir Gebelli (Persian: ناصر جبلی), born 1957 and usually credited simply as Nasir, is a video game designer, programmer, and former employee of Square.
Born in Iran, Gebelli moved to the United States to study computer science. He later founded his own company, Gebelli Software, which was forced to close its doors after the video game crash of 1983. With the release of the Nintendo Entertainment System a few years later, he traveled to Japan to seek employment in the game sector once again. After being turned away by Nintendo, he was eventually hired by Square, and went on to program several of their early games such as 3-D WorldRunner and Rad Racer.
Gebelli served as programmer on the very first Final Fantasy, and would return for the series' following two NES games. After completing work on Secret of Mana a few years later, Gebelli would retire from Square and return to his home in California to live off the royalties he had amassed from his earlier work.
Gameography
Edit
External links
Edit
Ad blocker interference detected!
Wikia is a free-to-use site that makes money from advertising. We have a modified experience for viewers using ad blockers

Wikia is not accessible if you've made further modifications. Remove the custom ad blocker rule(s) and the page will load as expected.