Mutsuki Chiharano
Talk

0
13,963 pages on
this wiki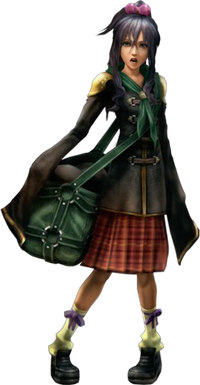 Mutsuki Chiharano (ムツキ・チハラノ, Mutsuki Chiharano?) is a supporting character from Final Fantasy Type-0, and is voiced by Marika Matsumoto.
Appearance and Personality
Edit
Mutsuki is a genius inventor of Class Twelve and always keeps a supply of her homemade bombs handy. She has a rather paranoid personality and is known to be a little trigger happy with her bombs, causing many to avoid her. She has green eyes and slate blue hair, tied in a ponytail with a yellow scrunchie with pink ornaments. According to the Crimson Codex, Mutsuki is 15 years old and 146cm tall.
She is found in the research labs; when King and Seven meet her, she believes they are trying to bully her and threatens them with a bomb. When Mutsuki realizes the bomb is unfinished, she runs off, threatening to get back at them later. When Finis begins, Queen and Trey find Mutsuki is still making bombs, convinced that the Lulusath have come to bully her and is determined to destroy them with everything she has.
Like a number of students at the Peristylium, she can join Class Zero as one of their allies through various sidequests. When Class Zero is assigned a mission requiring expertise with precision bombing, they can ask Mutsuki to help them fulfill the request. When they praise her expert knowledge of bombs and explosions after completing the mission, she will join Class Zero.
In the game's alternate ending, Queen, Deuce, and Cinque gossip about the rumor that Mutsuki is in a relationship with Ace.
Mutsuki has a chocobo keychain and a moogle keychain on her backpack.
Mutsuki's parents were famous researchers at the Rubrum Peristylium prior to being killed by Milites spies. The textbooks of Peristylium Suzaku were written by Mutsuki's parents.
Mutsuki shares her Japanese voice actress with Rikku from Final Fantasy X, Final Fantasy X-2, and the Kingdom Hearts series.